Obituary
Norman S. Simons, age 83, beloved husband of Lorraine Simons (nee Berman), happily married for 35 years; loving father of a blended family of five children, adored grandfather of eight grandchildren and treasured great-grandfather of ten. In lieu of flowers, donations in Norman's honor may be made to the U.S. Holocaust Museum, www.ushmm.org or the Wounded Warrior Project, www.woundedwarriorproject.org. Chapel services are private. Please attend via live stream, Friday, May 21 at 10:30 AM. For a link to view the service, shiva information and to leave condolences: Shalom Memorial Funeral Home, www.shalommemorial.org or (847) 255-3520.
---
Service Information
Service : Friday, May 21st at 10:30 am
Service Location: Shalom Chapel Service -Shalom Memorial Funeral Home
Interment:
Shalom Memorial Park
1700 W. Rand Road
Arlington Heights
Guest Book & Memories
Share your memories and photographs below.
May 21st, 2021
I was on the live stream today for the funeral service. What a beautiful tribute to Norm.
I met Norm at Congregation Beth Am. He would always greet us with the warmest smile. Norm and I studied together for 2 years with others for our Adult B'nei Mitzvah. I will always remember his love for Lorraine and his family. He was truly such a kind sweet man with a big heart. May Lorraine and the family be comforted by precious memories.
~Sandy Lorgeree
~Friend, Buffalo Grove,Il
---
May 21st, 2021
It was a beautiful, heartfelt service. Norm was a kind, gentle person whom we will all miss.
~Evelyn & Mary Berman
~Cousins, Skokie, IL
---
May 21st, 2021
Norm was always the first person we saw at services, greeting everyone with a big smile and "How are you?" or "So glad to see." His kindness, strong commitment to Judaism and love for Lorraine and his family will not be forgotten; it's his legacy. May Norm's name be a blessing! Keeping all of you in our hearts during this most difficult of times.
~Laural & Craig Reinhart
~Beth Am Congregants, Buffalo Grove, IL
---
May 21st, 2021
When I came to Beth Am for the first time, Norm introduced himself and offered me a tour of the building. He made me feel welcome and always greeted me warmly.
I will always be grateful that I knew him.
~Shelley Richardson
~Beth Am friend, Wheeling, IL
---
May 21st, 2021
My best memory of my Grandfather was shortly after I turned 18. I met with him in Chicago, IL. We went to breakfast followed by attending Navy Pier, The Museum of Science and Industry and then lunch. This was the first time in my young life that I had been given the opportunity to spend time one on one with him. I have several other memories that I will surely cherish of Grandpa Norm including getting the opportunities for him to meet my 3 children, his Great Grandchildren.
~Thomas Cloutier
~Grandson, Coahoma, TX
---
May 21st, 2021
My grandpa Norm helped raise my brother and I, and was always there to help us. There are so many memories, that I wil forever treasure with him, that I cannot just pick one. Many of my interest, and the things I love are thanks to him, and his guidance. He always encouraged us all to do and be our best, and I will continue to strive to be the best version of myself possible. During my high school graduation, I gave him a rose, and I had always planned to have him give me away at my wedding. I will miss him, and I will do my utmost to ensure his memory lives on through the generations. Shalom, Grandpa, wherever you may go, may your light shine upon those who meet your energy. This service is not just to mourn your loss, but to also celebrate your life. And your life was filled with emotions, and memories, and you were loved by many. You will live on in all of us. Blessed was your life, and blessed was mine for having gotten to know and love you these past 29 years. I love you grandpa, shalom.
~Odessa
~Grandaughter, Des Moines, Iowa
---
May 19th, 2021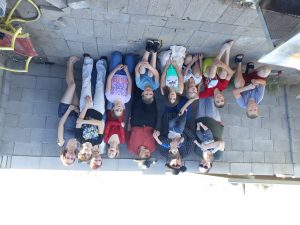 It never mattered what it was, Grandpa would tell me how proud he was of me and my accomplishments and gave me words of encouragement when I started to falter. I am so very glad he got to spend a little time with his great granddaughters. I may not have had the most time with him, but what time I did have will always be precious to me.
~Beth
~Granddaughter, Benson, AZ
---
Memorial Yahrzeit Request
You will receive an annual yahrzeit reminder and the associated prayers in an email year.
"*" indicates required fields
HONORING LIFE. CHERISHING MEMORY. ®