Obituary
Dr. Bernard L. Levine, 88, beloved husband of Dr. Judith nee Peurye for 60 years; loving father of Dr. David Levine (Laura Kaufman) and Deborah (Thomas) Markarian; cherished Grandpa of Rachel, Aaron, Sarah, Natalie and Andrew; dear brother of Barbara Kane and the late Solomon Kwiatkowski. In lieu of flowers, memorial donations may be made to Orphans Of The Storm, orphansofthestorm.org or the American Heart Association, heart.org. Shalom Chapel Service, Tuesday, November 22, 2022, 10 AM at Shalom Memorial Funeral Home, 1700 W. Rand Road, Arlington Heights. Entombment Beth Shearim Mausoleum. For information, including a link to view the service, shiva or to leave condolences: Shalom Memorial Funeral Home, www.shalommemorial.org or (847) 255-3520.
---
Service Information
Service : Tuesday, November 22nd at 10:00 am
Service Location: Shalom Chapel Service -Shalom Memorial Funeral Home
Interment:
Shalom Memorial Park
1700 W. Rand RoadArlington Heights
Guest Book & Memories
Share your memories and photographs below.
November 22nd, 2022
Barbara,
so sorry for your loss. I last saw Bernie after our last Courts meeting. He always brought a smile to my face. He will be missed by all.
Perry
~PERRY SIMMS
~FRIEND, LAKE FOREST, IL
---
November 22nd, 2022
Dave –
I did not have the honor of knowing your father, but I wanted to let you know my heart is with Laura and you. It can be heartbreaking to have someone who is pivotal in your life be here one day and suddenly not the next. There are no words that heal the pain right now, but I hope the presence of family and friends will help you as you go through this time of mourning. And as we say, may God comfort you among the other mourners of Zion and Jerusalem.
~Ellen Wodika
~Friend of Laura and Dave, Chicago, IL
---
November 22nd, 2022
With honor and respect donations and prayers have been made.
~The Comrov family
~Friends of the family,
---
November 21st, 2022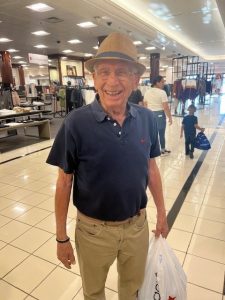 A photo of Dr. Bernard Levine
~Family of Dr. Bernard Levine
~Loving family, Lake Forest, IL
---
November 19th, 2022
Bernie, my friend Judy's husband, …I have always thought of Berie as a great partner to Judy, as their personalities seem to comliment each other so well. In marriage you are fortunate if that is the case.
We don't have the privilege of knowing how long we have in this life so it is a gift when we make the most of our opportunites for work and love. It seems like Bernie achieved that in life.
Judy, you and your family are in my thoughts at this time.
~Lynn Nelson
~Friend of Judy, Chicago
---
Memorial Yahrzeit Request
You will receive an annual yahrzeit reminder and the associated prayers in an email year.
"*" indicates required fields
HONORING LIFE. CHERISHING MEMORY. ®