Obituary
Errol R. Halperin, 81; beloved husband and best friend of Libby nee Heyn for 52 amazing years; devoted son of the late Lillian and Jerry Halperin; cherished brother of Phyllis Hollander (Don Bishop); adored uncle of Jennifer (Daniel) Touchette, Russell (Lily) Hollander, Erica Bishop, Tracy (Ben) Phillips, Mark (Jill) Bishop and great uncle to their families.
Errol was a founding partner of the law firm of DLA and was instrumental in the expansion of the firm, both nationally and internationally. He was a member of the executive committee and the global board from the inception of the firm and was a close advisor to the chairman.
In lieu of flowers and in honor of Libby, donations may be made to the Alzheimer's Association, www.alz.org. Graveside service Thursday, 12:00 Noon at Shalom Memorial Park, 1700 W. Rand Road, Arlington Heights. An additional celebration of life will be held at a later date. For information, to leave condolences and a link to view the service: Shalom Memorial Funeral Home (847) 255-3520 or www.shalommemorial.org.
---
Service Information
Service : Thursday, September 22nd at 12:00 pm
Service Location: Graveside Service -Shalom Memorial Park
Interment:
Shalom Memorial Park
Arlington Heights, Illinois
Guest Book & Memories
Share your memories and photographs below.
October 17th, 2022
Dear Libby,
I always thought Errol was immortal. I'm sorry for your deep, deep loss. I hope I can help somehow.
Love,
Andy
~Andrea Hornett
~Friend, Exton, PA
---
September 24th, 2022
Errol was one of the regulars at the morning workout. It was not a minyan but there were at least 10 regulars who interchanged workout with coffee.
I always enjoyed chatting with him while we were riding our bicycles. He was a news buff either reading or watching the news. A fervent Democrat, he related his experiences the the Clintons, the IRS (as their counsel), and his role at DL Piper. He was never braggadocio despite his achievements in politics, law, and finance. He last advice to me was to only invest in art that I liked and would hang in my own home.
Errol was quick witted, really the king of the one liners at Trump but never in a mean spirited way. I did note that he was very precise in his speech and language, the hallmarks of a great attorney. If I said something a little askew he would gently correct me.
Everyone at Trump who knew him misses his humor, wit and genuinely caring nature. We all extend our condolences to Libby who Errol was devoted to. One final note was that Errol joined the Board of Directors early on, as he wanted to make sure the Condo association got off to a good start.
~Lawrence Stone
~friend, Chicago
---
September 24th, 2022
Errol was a truly gifted and wonderful man. My wife, Cindy, enjoyed our friendship and travels together, Our prayers go out to Libby. The world has lost a truly gifted, kind, and compassionate man. God bless you.
~Douglas and Cindy Crocker
~Friend and business partner, Boca Raton, Florida
---
September 22nd, 2022
A terrific friend from high school and a club brother in "The Regular Fellas."
~MICHAEL BURACK
~FRIEND, CHICAGO
---
September 22nd, 2022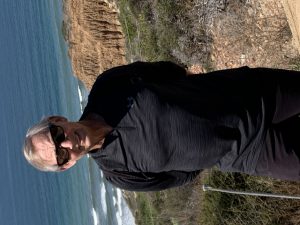 Errol and I shared an interesting and wonderful year as roommates in New York while obtaining our LLMs at NYU IN 1967-68. He was a bright, hardworking friend and our careers took us in separate directions. I loved our evening walks and conversations.
His passing was truly a shock to me. My deep condolences.
~Lee Chalmers
~Classmate and NY ROOMMATE, Northbrook
---
September 22nd, 2022
I was very sad to hear about Errol's passing. I'm sure that my husband (Jay Sher) met him at heaven's gate. 🙏
~Sandy Mason
~Friend, Twinsburg, Ohio
---
September 21st, 2022
So sorry to her about Errol. My husband went to high school with him, and he always liked Errol. May his memory be a blessing.
~Judith M Marcus
~, palatine
---
September 21st, 2022
Dearest Libby
Gene and I shared many dinners with you and Errol, laughs, and especially the magical day in the village in Bali.
Much love to you at this time. Marylou Witz
~Dr. Marylou Witz
~friend, Cicagok, Il.
---
Memorial Yahrzeit Request
You will receive an annual yahrzeit reminder and the associated prayers in an email year.
"*" indicates required fields
HONORING LIFE. CHERISHING MEMORY. ®