Obituary
Rebecca Bier 67, born in Chicago, May 18th, 1954, sadly passed January 29th, 2022, in NJ. Beloved wife of Michael Bier, and admired mother by Rachel, Arielle, Adina Bier, and (Gingy-dog). Adored daughter of Gitta and the late Sam Fajerstein. Loving sister to Ron and Dan Fajerstein. Open-hearted Mother-in-law to Roey Pasternak, Jon Rowlandson, and Marie-Luise Bier. Proud grandmother to Elan, Orly, and Noam Pasternak, Maximilian Bier, and Everest Bier. Cherished cousin, aunt, and sister-in-law to the Roth's, Fajersteins, Biers, and Russells. Becky, was a well regarded clinical psychologist specializing in children, adolescence, and family psychology for 40+ years. Her kind and loving memory will be cherished. The funeral will be held on February, 3rd 2022 at 10:00 AM via live stream. Please visit the website of Shalom Memorial Funeral Home for the link to view the service. Memorial contributions may be sent to Hadassah, Women's Zionist Organization of America, https://hadassahmidwest.networkforgood.com/projects/152499-in-memory-of-rebecca-becky-bier To leave condolences and for information, including a link to view the service: (847) 255-3520 or www.shalommemorial.org
---
Service Information
Service : Thursday, February 3rd at 10:00 am
Service Location: Private Service-Live Stream Access –
Interment:
Shalom Memorial Park
1700 W. Rand RoadArlington Heights
Guest Book & Memories
Share your memories and photographs below.
October 30th, 2022
Here it is late October, 2022 and I'm just learning of Rebecca's death. I'm stunned. Our paths didn't cross as often these days but I treasured her as a remarkably talented colleague and friend. Rebecca and I were both in the same group practice many years ago. Our professional paths led us in different directions but we shared clients on occasion. I learned a great deal from Rebecca about child development and professional practice. I respected her clinical wisdom, warmth, genuineness, kindness, compassion and expertise with children. I will know her, always, as one of the most talented clinicians I've ever encountered. So sad to hear of her loss. My condolences to Rebecca's family and friends–her memory will endure, she touched many lives.
~John Jochem
~Colleague, friend, Libertyville, IL
---
February 19th, 2022
Three fragments of memory rise up for me from the past, and one from the recent present.
One, when we were living in Northbrook and I was in Highland Park (perhaps in connection with one of my children). It must have been around Purim because I saw three Bier girls out delivering Shalach Manot. There was a sprightliness and a gaiety in their movements. I thought, what a loving family, and what a beautiful tableau of living life Jewishly! And what loving parents, to have raised their children to be that way.
Second, summer 1996. We had spent the previous year in Israel. We had to come back to Chicago; our kids were going to attend summer camps in Wisconsin. We couldn't go back to our Northbrook house because it was rented out for the year. We also needed to buy a car because we had sold our car a year previously. Whom to stay with? With you and Becky. Why? Because we felt at home with you, and no offense to you Michael, but the lion's share of that feeling came from knowing Becky, her putting us at ease, extending herself to meet our every need, her caring, her empathy.
Third, the times we visited you in Glencoe during our too-infrequent visits to Chicagoland while we were living in New Jersey. I have this vivid generalized memory from those trips of when we would share some problem she would answer yes, and in that yes and the pause that followed we knew that she was totally entering the world of our small private pain and taking it all in and sharing it, and in that sharing we already felt partly relieved of what had been weighing on us. That was Becky.
And most recently, the times we were able to get together after you moved to New Jersey — but that was the gift from heaven, the icing on the cake. Too little, but we feel blessed for it.
We share in your loss. But may you find comfort in the memory of her.
~Lenny Levin
~friend, Boynton Beach
---
February 9th, 2022
Dearest Michael and loving Family,
Words fail us to properly express the shock and sadness we feel.
Becky possessed such an aura of gentleness, kindness and compassion. Being part of the zoom viewing during her funeral, we were so impressed by the eulogies each family member shared because we also felt the sorrow that they were expressing.
Our relationship with Becky and Michael revolved around happy events, celebrating Jewish holidays, movies etc. Becky always showed an interest in whatever was going on in our lives and was a wonderful listener and problem solver.
A week before Becky passed, we had the best conversation. She was bubbling with excitement over the upcoming Shabbat and birthday celebration. Becky shared her joy with the difficult decision they had to make by moving to New Jersey.. she loved that her grandchildren's' school was almost in her backyard and that almost every Shabbat was spent either at their home or at Rachel and Rory's home.
Becky told me that she feels so energetic and healthy And can't wait to travel to London and Copenhagen to see her two new grandsons. She was so hopeful …
At the shiva I sat with Gitta in utter silence, then her eyes misted and so did mine. Gitta repeatedly said "It's not fair, it's not fair" and we both cried.
I wish you all strength and love, I know you all posses it all from your mom and from you dad.
May Becky's name be for a blessing,
Ricki & Phil Elbaum
~Ricki Elbaum
~Friend, Deerfield Illinois
---
February 8th, 2022
Dear Michael and Family,
Our memories of Becky will always be intertwined with her gentle smile, her ability to listen and her ability to problem solve.
I spoke to Becky for almost an hour a week before her passing. She sounded so strong, full of excitement and energy. Becky shared their plans to go to Rachel and Roey's home for a birthday and Shabbat celebration.
Becky shared how happy she was that they lived so very close to Rachel and how their daily life intertwined by sharing dinners, holidays and simple daily interactions.
Becky shared her disappointment and sadness that they had to postpone their trip to visit their two little grandsons in London and Copenhagen.
Sitting with Becky's mom,Gitta, at shiva, Gitta kept repeating "it's not fair, it's not fair" I agree, it's not fair!
Becky will be missed and remembered by so many. May her memory be for a blessing for all of us.
We will miss her,
Ricki & Phil Elbaum
~Ricki Elbaum
~Friend, Deerfeld, Illinois
---
February 8th, 2022
I am heartbroken at the loss of Becky. She was the most kind, gentle, caring, compassionate, loving person I have ever met. I loved her soulful, sparkling brown eyes and her sweet smile. It was comforting to have her as a friend, knowing that whatever I talked about, she was there to care and offer sage advice. I cherished our friendship. She will stay in my heart forever.
I knew Becky at two different phases of my life. We met when we were both fellow congregants at Moriah and our children were students at the Sager Solomon Schechter school. Our daughter Rachel and Adina were best friends growing up. There was hardly a Shabbat that they did not go to each other's houses after shul.
It was always such a pleasure to pick up Rachel after a play date at Adina's. I often got the privilege of seeing all the Bier girls in such a warm, lively, giggly atmosphere. It was such a pleasure to attend each other's simchas also–the B'nei Mitzvot of all of our children and their Rachel's wedding. I observed Becky being the best mom to her wonderful daughters. I treasure having witnessed this in action and imagining how wonderful she was with her grandchildren.
I remember being so excited when I heard that the Biers were moving to New Jersey! There would be opportunities to renew our friendship at this later stage of our lives, having laid the foundation during our child-rearing years. We were fortunate to have managed to get together 3 times after their move to NJ—twice at their house and once at our sukkah. There was always this great "chemistry" when we got together. Whether it was just the two of us or the 4 of us, we knew we were in for a great time together. Becky was always the ultimate hostess. Everything was so beautifully presented and delicious. Her grace and her charm radiated the whole time. Admittedly, knowing that she was diabetic, I was always a bit puzzled at the scrumptious desserts she made! I was so looking forward to a lifetime of friendship, which was cut so painfully short.
Sending love and heartfelt condolences to all of you. Her memory will always be a blessing in my life, as I am sure it is in yours.
~Margie Freeman
~Friend, colleague, South Orange
---
February 7th, 2022
We are so sad to hear of Becky's unexpected passing. She was a kind, respectful, genuinely caring friend on our block and, as young parents of girls, we formed a tight bond. Her family meant everything to her and we are sure you will all carry her love and values with you every day. Our hearts are with all of you.
With love,
Debbie and Gerry Miller
~Debbie and Gerry Miller
~Friend and neighbor, Highland Park, IL
---
February 7th, 2022
Please accept my deepest condolences on the loss of your beloved Rebecca. I cannot begin to understand the pain and grief your family is experiencing at this time. I can only hope that you find some measure of comfort in the wonderful memories and more that were shared at the funeral service. My thoughts and prayers are with you during this difficult period
~beverly rosen
~, Highland Park
---
February 6th, 2022
I remember Becky as someone who loved her family unconditionally and would do anything for her daughters. Our daughter Mollie grew up with Adina – great friends at camp and at school. Their special friendships continues to this day. Whenever we saw Becky, she also had a warm and welcoming smile. Her legacy lives on in her children and beautiful grandchildren.
May her memory be for a blessing.
~Jennifer Flink
~Friend, Highland Park, IL
---
February 6th, 2022
Michael asked me to share the story I told him about a client that I am currently seeing. This soon to be 20 year old young man was struggling in school when I first saw him a couple of years ago. A bright young man but he was having trouble getting his work done, as it took hours to complete a simple task. I referred him and his family to Dr. Bier who did her usual thorough psychological testing and determined he was ADHD. Rebecca's testing was instrumental in helping him to understand himself better, both weak areas and strengths. Her testing opened the door for him to try medication, which has greatly contributed to his many successes. He completed high school as a straight A student and is now attending college. He is also a percussionist who has been selected to perform and travel with an elite Drum & Bugle Corp. Only the very best musicians are selected for this type of group. His confidence and self-esteem have soared. He challenges himself daily and believes he can do whatever he decides to do. We both agreed that Dr. Bier's testing was a pivotal moment in his life.
~Larry Grubb
~Colleague and friend, Antioch, IL
---
February 5th, 2022
I had the wonderful privilege of working with Rebecca at Gurnee Counseling Center for many years. Our offices were next to each other and I would often witness what Phil Kirschbaum so beautifully described, when Rebecca would take the time to greet each of her "little clients" with the utmost care and concern. We often saw different members of the same family and Rebecca's insight and thoughts were always helpful. One of my clients that I currently see was seen by Rebecca and it was her testing and clinical expertise that enabled him to get the help he needed, which was a pivotal point to the success he has achieved. Her beautiful smile and calm demeanor was always a blessing when I would speak with her. It has been my honor to know and work with such a caring, sensitive and loving person. My wife, Alice and I had a wonderful dinner with Rebecca and Michael a number of years ago, and it was then that I saw that joyful, funny side of Rebecca. What a good time we had and how I cherish that memory. May you all have beautiful memories of Rebecca.
Larry & Alice Grubb
~Larry Grubb
~Colleague anf friend, Antioch, IL
---
February 4th, 2022
Friend of Michael, my memory of Becky is of a sweet and curious person.
~Chris Black
~friend, Chicago, IL
---
February 4th, 2022
I send my deepest and heartfelt feelings of sympathy to Gita and family.
~Phyllis Simon
~Acquaintance at Congregation BHBE, Wilmette, IL
---
February 4th, 2022
Dear Michael and Family,
Becky was so easy to talk to, she always cared about others. We loved our get togethers. She was a marvelous hostess. You and Becky were such a wonderful team, delightful guests at our house and added so much to our lives. We just realized that we never heard Becky complain about anything. Becky always wanted everything to be important and and special when we all planned showers together. It showed how much she cared about everyone and wanted their special days to be memorable.
She was such a wonderful person. We'll always remember her smile. She'll always be in our hearts.
Love,
Gail and Walter
~Walter and Gail Fried
~Old Friends, Highland Park, IL
---
February 3rd, 2022
Michael and Family
Judy and I are so sorry for your loss. I have known Rececca for over 30 years as a friend and colleague. We met working at a group practice but spent the last number sharing a suite of offices with myself, Rebecca and Sandra Viola. Tuesday was the day that all of us would be in the suite together. Many times when our breaks would coincide we would sit and talk about family and therapy. We would use that time to catch up on how our families are doing and consult about cases or even the process of therapy we both experience.
She was extremely proud of her 3 daughters and the adults they have become. She would tell me she and Michael met and how their love grow over the years
Rebecca was a marvelous therapist and any patient would have been lucky to have her as their therapist
Michael Judy and I enjoyed all the times we got together for movies and dinner. Those will be thoughts we will remember for years
~Steven and Judy Meyers
~friend and colleague, Skokie, Ill
---
February 3rd, 2022
To all the Fajersteins and Biers,
Laurie, Milt Wakschlag & Family and Izzie Weinzweig send our love and sorrow for the loss of your beloved Becky. Thinking of you in this sorrowful time. May you be comforted amongst the mourners of zion and israel.
~Laurie Wakschlag
~friend of family, Lincolnwood
---
February 3rd, 2022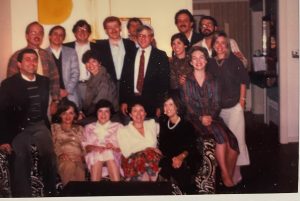 My heart is with you!
Whenever I think of Becky her beautiful piercing brown eyes comes to mind surrounded by her dimples! And her brother was right – those eyes were always asking "How can I help you?"
May her memory be for a blessing.
Becky
~Becky Dolin
~Friend from Moriah Congregation, Green Oaks, IL.
---
February 3rd, 2022
Dear friends, I am so saddened at the loss of Becky. I felt such warmth from all of you when I joined the Moline family. When Becky spoke to someone, it was as if that person was the only one in the room. I enjoyed my conversations with her. She was gentle and kind and made me feel that I was the only one in the room. Love, Joni
~Joni R Crounse
~friend of the family, Chicago
---
February 3rd, 2022
Dear Michael and all your beautiful family,
We have so many wonderful memories of Jewish Holidays, celebrations, Sukkot meals, study, Moriah services, shared with you and Becky and the Chavurah. Becky was one of the kindest, gentlest, sweetest souls we've ever had the privilege to know. We are deeply saddened by her loss. Our heartfelt condolences to you all.
With Best Wishes and love,
Karen and David
~Karen & David Sager
~Friends, Highland Park, Illinois
---
February 3rd, 2022
Rebecca was the kindest. She treated my son Reid like he was her own grandchild, coming to his birthday parties (even when it was a 90 minute drive.) The patience and kindness she showed the kids always was unparalleled. She was always so kind, loving and supportive even while mischief, fighting and squirt guns ensued. She was this wise and calming presence – so warm and loving. I was so happy when she moved to NJ (not as happy as Elan and Orly though) and now I can still be grateful for the short time I knew her but I am also grateful for those she has given us… like my dear friend Rachel. My heart breaks for the Bier family- Rebecca was taken from us too soon but she leaves behind a legacy of wonderful memories and family who knew she loved them deeply. She made sure they knew. ❤️
~Erin silver
~Friend, NJ
---
February 3rd, 2022
Becky was a person with many priorities. She was a devoted wife, doting mother and grandmother, cherished daughter and sister, kind friend, and caring psychologist. What do you need? What can I do to help? Those were questions that she always asked. Becky touched so many people's lives and that included my family. She will always live on in our hearts and our minds.
~Sonya Frazin
~friend, Northbrook, IL
---
February 3rd, 2022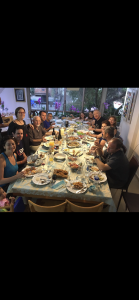 מפגש משפחתי שמח בכוכב יאיר
Happy family reunion in Kochav Yair.
Remembering becky with love
David , Eti Bier and family
~Eti & David bier
~Second Cousins, Kochav Yair Israel
---
February 3rd, 2022
Gitta, Dan,
My deepest condolences to you and all your family in this very sad time of loss. The tributes to Becky are an inspiration on how to live, what kind of person to aspire to be. I'm so sorry for this tragic loss of your daughter, your sister, this light in your lives. May her memory be for a blessing.
Love,
Cheryl
~Cheryl Waldstein
~Friend of Gitta and Dan, Glencoe
---
February 3rd, 2022
My family has had the pleasure of getting to know Becky & Michael here in Woodcliff Lake through their children and grandchildren. Orly & Elan are good friends to our kids and we were lucky to be able to see Becky at many of their events. Whether it was shuttling the kids to art class, yoga, soccer, a birthday party, or even dressing up at a party- you were always patient, happy, and exactly who the kids wanted. You always helped Rachel & Roey before they even asked and seemed to know what was needed in each situation. I last saw you a week and a half ago at my son's birthday party and even though it was brutally cold you had a smile on your face watching the kids attempt to ice skate. You will be missed, but please know that your new community will take care of your family.
~Jen & Josh Margolis
~Friend in WCL, Woodcliff Lake, NJ
---
February 2nd, 2022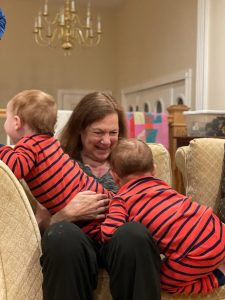 Becky took such delight in being with our grandchildren. In this case, one year old cousins Noam, Rachel's son from Woodcliff Lake, and Max, Arielle's son from London, when they were visiting us in NJ in August/September, 2021.
~Michael Bier
~Husband, Woodcliff Lake, NJ
---
February 2nd, 2022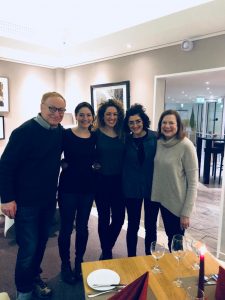 One of my last pictures of Becky and me with all "our kids". Aachen, Germany, 2018, to lay a stolpersteine, memorial stone, for my mother, my grandparents, and uncle, who were all murdered by the Nazis after my mother got to Britain. The joy Becky had in her children is evident.
~Michael Bier
~Husband, Woodcliff Lake, NJ
---
February 2nd, 2022
I am so very sorry to hear about Becky's passing. Many years ago we were neighbors on Sumac as well as neighborhood friends. Our children played together and now and then we got together as families. I remember Becky being kind, positive and generous of spirit. She was a wonderful mother to her small children and kind to all the kids in the neighborhood.
I hope the wonderful memories you have of her will bring your family solace at this difficult time.
~Marla Halstuk
~Former Neighbor, HIGHLAND PARK
---
February 2nd, 2022
I first met Becky in Junior High School, and we became fast friends and partners in adolescent mischief. Though our addresses mandated that we go to different high schools, we maintained contact through those years via Beth Hillel's USY. I remember her sparkling eyes and endearing giggle and was thrilled when I saw and heard them again on my eldest child's first day of Kindergarten at Solomon Schechter Day School! Becky was holding the hand of an adorable little girl who looked EXACTLY like her – Rachel and Elana have been friends ever since! Through the years, we shared a carpool, gossip, racy jokes, and professional interests. Becky was warm, vivacious, and clever. She was an amazing mother to her beautiful daughters. Becky will be deeply missed by friends and family alike. I consider myself fortunate to have known her and lucky to have had her in my life. May her memory be a blessing.
~Diana (Piwnica) Pure
~Friend, Chicago, IL
---
February 2nd, 2022
ברוך דיין אמת
So sorry for your loss.
~Richard Dahl
~Distant relative of Michael, Israel
---
February 2nd, 2022
Becky was intelligent, kind, and generous. We were neighbors in Glencoe and we would talk at the park on our dog walks. She was incredibly thoughtful. I loved hearing about her grandkids, she was so proud of her family.
Michael and family we send our deepest sympathy.
Love,Erica and Larry
~Erica Neems
~Neighbor/friend, Glencoe,Il
---
February 1st, 2022
Becky always created warmth among her friends. The outpouring of love from family and friends attested to this at her recent birthday celebration at Ravinia. Rodney and I will sorely miss her.
Michael, our sincere condolences.
Her memory WILL BE a blessing.
Love, Marilyn
~Marilyn Slutzky
~friend, Highland Park
---
February 1st, 2022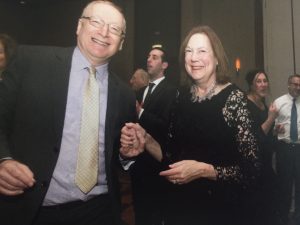 So many wonderful memories of simchas in our home (50th, etc or at the children's showers and weddings such as the latest one I found at son Marc's wedding 2017–and at Ravinia not so long ago pre-Covid.) Not to mention SO many chavarah get-togethers with mutual friends or breaking the fast at your home in the earlier days. It was hard for me when you guys moved out east to be with Rachel and family and yet I was happy as most of the family could be together during difficult times. Becky got to know those grandchildren on a daily basis; happy for that. With sadness for you all….
~Dottie Fiedler
~Friend, Deerfield
---
January 31st, 2022
I am just so sad to hear about Becky. I knew Becky growing up. The Neumark (Mimi and George and the three D's Daniel, David, and Dianne (me) and Fajerstein families (Gita and Sam and Ronny, Becky, and Danny) had many Shabbat dinners together among other things. Our fathers were in friendly competition in business and our mothers were always very, very close, perhaps due to coming from Europe and having just a slightly different way of doing things. Becky and I were the only daughters and were about four years apart so she was the one to whom I looked up. Such grace and beauty always!
That said, family friend often get put at tables at bar-mitzvahs with the children of other family friends and it can sometimes be a bit awkward. See the attached photo at my older brother's bar-mitzvah (thanks to Dan for doing some digging). Becky is as beautiful as always but perhaps not so thrilled about the table. I think I see a Massel daughter at the table also.
I am sending so much love to Gita, Michael, Ron, Dan, and all your children and grandchildren and nieces and nephews and friends…We will carry Becky in our hearts always. May her memory be a blessing.
Love from Hector and Dianne and all the Neumarks
~Dianne Neumark-Sztainer
~family friend, Minneapolis, MN
---
January 31st, 2022
I met Becky when our daughter's started kindergarten at Solomon Schechter Day School. Our families always had a good time together. I will never forget Becky's beautiful smile on her face. Also Becky was a wonderful cook.
Love, Arlene
~Arlene Levin
~close friend, Naples, Fl and Highland Park
---
Memorial Yahrzeit Request
You will receive an annual yahrzeit reminder and the associated prayers in an email year.
"*" indicates required fields
HONORING LIFE. CHERISHING MEMORY. ®