Obituary
Clifford I. Ganan "Cliff", 81, February 6, 2022; beloved husband and best friend of Bunny, nee Volk for an amazing 58 years; loving and adored father of Jordan (Jill) and Dori (Leslie Corral); cherished grandpa of Mikayla and Seth; dear brother of Carol (Chris) Finan and the late David Ganan; much loved uncle of Rachel Finan, Jeffrey (Sarah) Finan and the late David Finan; wonderful great uncle of Claire and Ari Finan and lifelong friend of many. Cliff was a leading defense attorney in Workman Compensation and was a founding partner of Ganan and Shapiro until he retired in 2020. He had a love of traveling, was very active in the AZA and most importantly loved spending time with his family and friends. He will be missed dearly. In lieu of flowers, memorial donations in his memory to Jewish United Fund (www.donatenow.juf.org) or Live Like Roo (www.livelikeroo.org) would be greatly appreciated. Chapel service, February 9, 2022, 2:30 PM at Shalom Memorial Funeral Home 1700 W. Rand Road, Arlington Heights. Interment Shalom Memorial Park. For the link to view the service, shiva information and to leave condolences: Shalom Memorial Funeral Home, www.shalommemorial.org or (847) 255-3520.
---
Service Information
Service : Wednesday, February 9th at 2:30 pm
Service Location: Shalom Chapel Service -Shalom Chapel Service
Interment:
Shalom Memorial Park
1700 W. Rand Road
Arlington Heights
Guest Book & Memories
Share your memories and photographs below.
February 14th, 2022
Today when I bring in the mail there won't be a Valentine's Day card from Cliff. Every year, for 30 years, I received a hilarious valentine from him. This was just one example of how thoughtful Cliff was. He never forgot a birthday, anniversary, or any special occasion. He was always there for me. I love him so much, and I will think about him everyday.
~Carol
~sister, Grand Rapids, Mi
---
February 10th, 2022
Our first encounter with Cliff and Bunny was about one week after we moved to Chicago. We were at Tufano's Restaurant and they were at the next table. Cliff as we all know was not the shy type! He engaged us in a lively conversation beginning with his remarkable sense of humor.
We all became good friends and both Cliff and Bunny made his feel like family from the beginning. They welcomed us into their beautiful home during religious holidays along with their close family and friends. Their hospitality and warmth always made us feel part of the family. Cliff and Bunny were a special couple and we are so grateful to have them in our lives. He was so blessed to have Bunny by his side through life along with his wonderful family.
It will be difficult to never hear Cliff's jovial voice and his marvelous humor. We will always have a special place for this remarkable man in our hearts.
~Sheri Cowan & Gary Goehl
~friend, Dahlonega GA
---
February 9th, 2022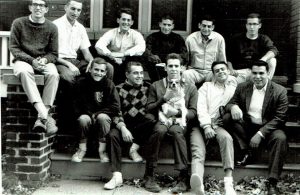 University of Illinois, college days. Don Garfield can name all the people in this photo. Cliff is second from the left in the bottom row. This is where we lived at 305 East Daniel St in Champaign, Illinois.
~Barry Opper
~, Sun Valley
---
February 9th, 2022
Cliffy was always so gentle and full of wisdom. Dori would often send me screenshots of his words of wisdom, all of which she held and still holds close to her heart. I had the privilege of spending quality time with both he and Bunny over the past 22 years. Cliff always entertained us with his stories and amazing sense of humor. He was such a special human who was loved by all. My heart is with the family during this difficult time.
~Alycia Hayes
~friend of family, portland, OR
---
February 9th, 2022
Cliff was truly one of the most gracious and generous individuals that I have ever had the pleasure of knowing. I was blessed to meet him nearly 30 years ago at an industry event and immediately he made me feel like family. I will always cherish the wonderful times spent with him and Bunny and our stays at the lake with them. Cliff was THE best…he lived large, laughed large and most importantly loved larger than anyone I have ever known. To be loved by Cliff was truly the greatest blessing one could receive. We love you and will miss you my dear friend. Rest in peace.
~Jill A Dulich
~Friend, Costa Mesa
---
February 9th, 2022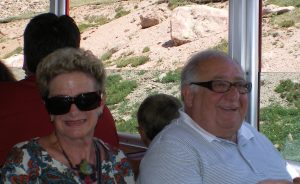 Cliff was a funny, thoughtful, and talented guy. He was a true mensch. I met him through his involvement with the National Council of Self-Insurers. I'll always think of him fondly. My heart goes out to Bunny and the entire family and his friends. z'L'
~Dave Kaplan
~Friend, Des Moines, WA
---
February 9th, 2022
We have been next door neighbors to Cliff and Bunny since mid 2006 and could not have asked for better neighbors. While they spent alot of weekends in Michigan it was great having Cliff as a neighbor and he will be missed a lot. Will certainly miss his laugh and his jokes. Thanks Gregg, Liz and Owen
~Gregg, Liz and Owen
~Neighbor, Omaha, NE
---
February 9th, 2022
It was so lovely to spend time with Cliffie and Bunny a few weeks ago. I will treasure that meeting forever.
~Claudia Anne Katz
~friend, Deerfield
---
February 9th, 2022
Cliff was a wonderful person and a great friend. He was so kind and was always there whenever called upon. He also spoke so lovingly of Bunny and his family. Our thoughts and prayers are with all of them. He will be truly missed.
Julie & Tom
~Julie Sfurm
~Friend, Naperville, IL
---
February 9th, 2022
What a wonderful mentor and friend. He let us know no matter how contentious a case maybe, the petitioner and respondent attorneys could and should enjoy each other outside of their clients. He is deeply missed by the workers compensation community. I never thought he looked like Danny DeVito until know.
~Richard Hannigan
~Friend, Mundelein
---
February 8th, 2022
Met when we were 8 or 9 years old, lived a half a block away on Saginaw Ave on the southside, AZA together, college roommates, separated for all these years thereafter. Still Cliffie was the best of us and his memory guides me yet. Love to you Bunny.
~Barry Opper
~friend, Sun Valley
---
February 8th, 2022
I met Cliff when he was 16 and I was 14. I think my mother heard about AZA and made some inquiries. Ed Salomon, Ken Winsberg and myself most likely car pooled and joined the AZA. Cliff was bigger than life ( take it anyway u wish ) and seemed to be a great leader. He did not succeed as the center of our AZA basketball team nor as a runner at the AZA Invitational. But he was always up and when we were down, he then would get us up in the next minute. He moved onto college and a professional life. When we would see each other, we would talk family and our other family (AZA). It is and has been our bond for 64 years. Part of our life that has never been forgotten. A breakfast outing some 3 years ago blossomed into 10 AZA brothers sharing food
smiling, yelling and enjoying each other. WE all had questions about who were the first members and How did Mr. Ganan get involved. Only one person had the magic touch to unlock these mysteries. Cliff Ganan. Like a circus master of ceremony, he turned around and around and answered all questions being born to do so. Getting together led to a larger group outing as we invited our wives to join us for dinner. Reunions can be wonderful with all of its memories the central part. Cliff told all in attendance as to the formation of Manor AZA and its success due to Seymour ( I can see him standing dressed in a sport coat smoking on his cigar and besides him Ed Rhouda who made us into young men) and when it was Cliff's turn to speak, he had become 16 all over again. Love you Cliff. Instead of using the word Mench in the Future, we should say Cliff Ganan.
~stanley cohen
~good friend, GLENVIEW
---
February 8th, 2022
I am so sorry for your loss. Cliff was a wonderful person and always pleasant to work with.
May his memory be a blessing.
Pat Lannon Kus
~Patricia Lannon Kus
~colleague, CHICAGO
---
February 8th, 2022
Cliff was always a class act and a gracious host. Jeannie and I have many fond memories of parties, trips and meals with Cliff, Bunny and Company.
~MICHAEL THORLTON
~, DANVILLE
---
Memorial Yahrzeit Request
You will receive an annual yahrzeit reminder and the associated prayers in an email year.
"*" indicates required fields
HONORING LIFE. CHERISHING MEMORY. ®