Obituary
On the morning of Tuesday, September 6, 2022, Herbert Foss passed away peacefully in his sleep. He lived life to its fullest for 92 amazing years. Though he will be missed, he will never be forgotten. Herb was the beloved husband of the late Shirley (Lieberman), son of the late Lawrence and Dorothy Foss, loving father of Leonard, William, and Matthew (Pamela), proud grandfather of Erin, Shaina (Eric), Tobi, Grant, Spencer, and great-grandfather of Blake, Sofia, and Benjamin. He honorably served in the US Army Signal Corp and was a veteran of the Korean war. Herb was born and raised in Chicago, Illinois and later moved to the suburb of Wilmette with Shirley to raise their three sons. He was an avid Chicago sports fan and was recognized as a great little league baseball coach by all three sons and their teammates. Herb enjoyed over 20 years of success as the Quality Assurance Manager at Williams-Bally-Midway (a leading pinball, video, and slot manufacturer). Throughout his life, he acquired all forms of the latest technology from computers to innovative watches, digital cameras, and wiz-bang gadgets that entertained and surprised us all. He enjoyed all kinds of music, art, travel, theater, and had a special affinity for magic shows. In his later years, Herb found love again with Gladys March and who became part of our extended family. He also developed several close relationships amongst the many friends he made at Levy House. Herb enjoyed the laughter and love shared at family events and visits from his children, grandchildren, and great-grandchildren. He served his neighborhood well going with friends to the community police meetings in the park, and in his role of Participating Budget Committee Leader for the 49th Ward of Chicago, where he championed improvements in safety, security, and neighborhood beautification. In lieu of flowers, donations may be made to CJE SeniorLife (www.cje.net) or to your favorite charity in Herb's memory. Chapel service, Friday, September 16, 2022 at 12:15 PM at Shalom Memorial Funeral Home 1700 W. Rand Road, Arlington Heights. For a link to view the service, shiva information or to leave condolences: www.shalommemorial.org or (847) 255-3520.
---
Service Information
Service : Friday, September 16th at 12:15 pm
Service Location: Shalom Chapel Service -Shalom Memorial Funeral Home
Interment:
Shalom Memorial Park
1700 W. Rand Road
Arlington Heights
Guest Book & Memories
Share your memories and photographs below.
September 11th, 2022
Herb was a good man who did good work at Williams/Bally/Midway. He always had a smile for his coworkers, and often some good jokes. He was quite a bit older than many of us, and wiser, too. I started calling him "Herb Fossil" and he laughed. He took it with a great sense of humor. He will be missed. RIP Herb. Sincere condolences to the family.
~Steve Ritchie
~Friend/Coworker, Lombard, IL
---
September 10th, 2022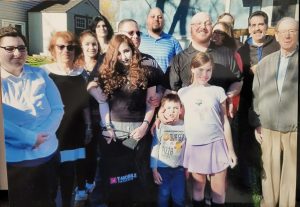 Uncle Herb was always happy to see you and in good spirit. Whenever you had a question about pinball machines he would have the answer. Growing up in the 80's-90's I could always look forward to the 4th of July party with uncle Herb, aunt Shirley and the rest of the family. Treasured memories.
~Hal Lieberman
~Great nephew, Grayslake, IL
---
Memorial Yahrzeit Request
You will receive an annual yahrzeit reminder and the associated prayers in an email year.
"*" indicates required fields
HONORING LIFE. CHERISHING MEMORY. ®