Service Information
Service : Wednesday, November 15th at 10:00 am
Service Location: Graveside Service
Shalom Memorial Park
1700 W. Rand Road
Arlington Heights, IL 60004
Interment:
Shalom Memorial Park
1700 W. Rand Road
Arlington Heights
Shiva Information
Shiva Information
Rose Residence
1210 Clematis Drive
Streamwood, Illinois 60107
Wednesday, following the
service until 6:30 PM
Minyan at 5:00 PM
and
Tetrault Residence
19 Vista Drive
Flanders, New Jersey 07836
Sunday, 11:00 AM – 2:00 PM
Minyan at 1:30 PM
Contributions
Friends of the Israel Defense Force
fidf.org
or
Rheumatology Research Foundation
rheumresearch.org
Obituary
Jay Charles Kaufman, 70, beloved husband of Karen nee Rose for 47 years; loving father of Jeff Kaufman and Sarah (Steve) Tetrault; cherished Zayde of Chloe and Alia; also beloved to his grandpuppies, Mozzie and Lizzie. In lieu of flowers, memorial donations may be made to the Friends of the Israel Defense Force, fidf.org or Rheumatology Research Foundation, rheumresearch.org. Graveside service, Wednesday 10 AM at Shalom Memorial Park, 1700 W. Rand Road, Arlington Heights. For information, including a link to view the service, shiva or to leave condolences: Shalom Memorial Funeral Home, www.shalommemorial.org or (847) 255-3520.
Guest Book & Memories
Share your memories and photographs below.
November 15th, 2023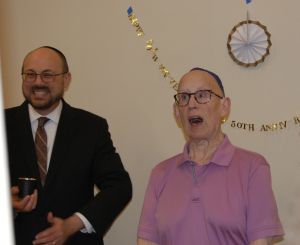 Jay had a wonderful voice and we loved to hear him sing. He sang the seventh Bracha at our daughter's wedding and 16 years later did the same at the renewal of our vows for our 50th wedding anniversary. We will miss that melodious voice.
~Dave & Rhonda Cohn
~Friend s, Buffalo Grove, IL
---
November 14th, 2023
Jay was a great friend and lawyer. When I first opened my own litigation practice in 2001, Jay was the first person to rely on me for the benefit of his clients. He trusted me and I could never thank him enough. For years before he retired, Jay and I spoke on an almost daily basis, becoming the best of friends as well as business associates. Jay's clients were of the utmost importance to him, only exceeded by his love of his family. We relied on each other, both professionally and personally. I cannot express how much I will miss him.
~David Axelrod
~Friend, Chicago, Illinois
---
November 14th, 2023
I will always remember Jay so beautifully performing part of my daughter's bat mitzvah service. It's a memory we all cherish.
May Jay's memory always be for a blessing.
~Jack Fishman
~Friend, Algonquin
---
Memorial Yahrzeit Request
You will receive an annual yahrzeit reminder and the associated prayers in an email year.
"*" indicates required fields
HONORING LIFE. CHERISHING MEMORY. ®