Obituary
Fanny Cooper, 96, January 1, 2023; beloved wife and companion of the late Frank for 60 years; loving mother of Ilana (Marc) Platt, Steven Joel (Nathalie) Cooper, and Norman David (Adela) Cooper; cherished grandma of Daniel (Trina) Platt, Julie Ann Platt (Steven Bernfeld), Kayla (Michael) Crotty, Elizabeth (Nathaniel) Schipper, Jeffrey (Stephanie) Cooper, Sara Cooper (Shaul Nirpaz), Vanessa (Isaac) Peckel and Alan Cooper; much loved great-grandma of Frankie and Juniper Platt, Johanna Bernfeld, Sequoia and Emmett Crotty, Samantha and Alison Schipper, Noah and Benjamin Cooper, Alessandra and Vivianne Peckel, Luca and Massimo Cooper. Memorial donations to the Self Help Home, www.selfhelphome.org/donate, would be greatly appreciated. Graveside service, Wednesday, January 4, 2023; 11 AM at Shalom Memorial Park. For the link to view the service, shiva information and to leave condolences: www.shalommemorial.org or (847) 255-3520.
---
Service Information
Service : Wednesday, January 4th at 11:00 am
Service Location: Graveside Service -Shalom Memorial Park
Interment:
Shalom Memorial Park
1700 W. Rand RoadArlington Heights
Guest Book & Memories
Share your memories and photographs below.
January 5th, 2023
Sending our condolences to the family, we will always remember her. It was an honor to get to know her
~Jacobo & Miriam Waisberg
~Norman brother in-law, Miami – Florida
---
January 4th, 2023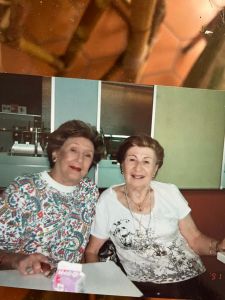 She will be sadly missed.Lived a long wonderful joyous life.Quite a legacy she leaves.
~joseph Mishkin
~Long Time friend, Miami florida
---
January 4th, 2023
Sending condolences from Fanny's Selfhelp friends- she was an extraordinary woman and we will all miss her. We were glad to be able to honor her life by watching the livestream of her funeral together.
~Benna Kessler, and Fanny's Selfhelp friends Sara, Anna, Esther, Edith, Don, Phyllis, Rita, Eileen, Sally, Kazuko, also Julia, Tsering, Samten, Meaza, Helen
~Friends from Selfhelp, Chicago, IL
---
Memorial Yahrzeit Request
You will receive an annual yahrzeit reminder and the associated prayers in an email year.
"*" indicates required fields
HONORING LIFE. CHERISHING MEMORY. ®