Service Information
Service : Wednesday, March 15th at 10:00 am
Service Location: Shalom Chapel Service, Visitation 1 hour prior – Shalom Memorial Funeral Home
Interment:
Randhill Park Cemetery
1700 W. Rand Road
Arlington Heights
Visitation
Visitation
Calls of Condolence
Schaumberger Family Home
655 Sapling Lane
Deerfield, Illinois 60015
Wednesday 3 PM – 8 PM
(At the families request, no visitors before 3 PM please)
Obituary
Kaitlin Renee Schaumberger, age 25, passed away suddenly due to complications with Covid and Pneumonia on Friday, March 10. An absolute ray of sunshine, Kaitlin loved hanging out with family and friends, exploring different cities and countries, enjoying her daily smoothies, teaching her second-grade students, listening to new music, ensuring she always took the best selfies, and always brightening everyone's day. She was so grateful to have found the person she wanted to spend the rest of her life with. She and her partner, Lily, had just started planning their life together. Beloved daughter of Michael and Tarali Earle Schaumberger. Loving sister of Allison Schaumberger. Cherished granddaughter of Sandy Earle, the late John Earle, Susan Schaumberger, and Donald Schaumberger. Adored niece of John (Becky) Earle, Wayne (Julie) Earle, Kathy (Irwin) Coskey, Steven (Ruth) Schaumberger. Loved cousin of Brianna (Brad) Loveridge, Haley (Derek) Earle, the late Derick Earle, Brian (Nicole) Earle, Matt (Laura) Earle, Jennifer Earle, Adam Earle, Eric Earle, Amy Earle, Peri Coskey, Spencer Schaumberger, and Andrew Schaumberger.
In honor of Kaitlin, please make sure to live out her inspirational motto: "Life is a journey enjoy it."
Chapel service Wednesday, March 15, 10:00 AM, visitation one hour prior at Shalom Memorial Funeral Home, 1700 W. Rand Road, Arlington Heights. Interment following at Shalom Memorial Park. For additional information, visitation and a link to view the service online, visit Shalom Memorial Funeral Home, www.shalommemorial.org, 847-255-3520.
MEMORIAL CONTRIBUTIONS
Oakdale Elementary School 2230 N McAree Road Waukegan, Illinois 60087
Donation Link
Guest Book & Memories
Share your memories and photographs below.
March 30th, 2023
With sincere condolences and much sadness for your loss.
The Feldman Family
~Donna Tremblay and Robert Feldman
~Family Acquaintance, Deerfield, Illinois
---
March 17th, 2023
To Michael, the Schaumberger family and all those Who Loved & were Loved by Kaitlin-
I was drawn to this site by the photo and article in the Chicago Tribune- March 17. I watched the service and listened to the heartfelt stories and sentiments expressed. Losing your Kaitlin will never make sense. She was (by all accounts) one of a kind and a blessing to all who got to know her. My "sense" of this – She has NOW made all of you better in this world. In Kaitlin's memory you will carry on the tenacity, goodness and love of life that made Kaitlin who she was. In her name……… Live
~Kevin Falvey
~None, Mokena, Illinois
---
March 16th, 2023
So sorry for your loss of your Beloved, Kaitlin. I feel connected to her because I have a daughter who is a first grade teacher.
I can just imagine how energetic and how much she was loved by her students. May She rest in eternal peace and let perpetual light shine upon Her.
She is amongst the angels up in Heaven.
~Marcia Ulan
~Friend, St. John, Indiana
---
March 15th, 2023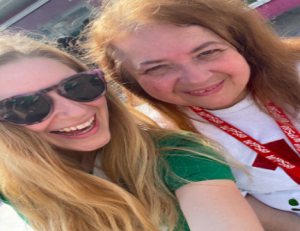 Dear Kaitlin:
It was a blessing to meet you and share pleasant moments. You are a light in this world!
With Love,
Lissette Rosa
~Lissette Rosa
~co-worker, Oakdale Elementary School
---
March 15th, 2023
My heart goes out to all of Kaitlin's family and friends. I only worked with her a short time but she was far too young and had far too much left to give. She was a dedicated teacher and had a huge caring heart. From her service you can tell how much she was so loved by those around her and that she gave them lots of love back. It sounds like she packed a lot of life into her short time, which was far too short. I wish I had gotten to know her better. My deepest condolences to all who knew and loved her.
~Kate Ricci
~Former Co-Worker, Glenview, IL
---
March 15th, 2023
Ms. Schaumberger encouraged my daughter Jakiyla (Kiy) everyday and helped her improve this year by always being her cheerleader. She was always cheering her kids on whenever they made a milestone and encouraged them to always do their best. One thing in common they had is they share a birthday and highlighted that they were birthdays twins for the class. She told Kiy to never lose her passion for learning and that she was so proud of all that she has accomplished. We will miss seeing her face for morning drop-offs and hearing her cheering at goal setting assembly. She has definitely left an impact on my daughter along with myself. My heartfelt condolences from my family to yours.
~Stephanie Vickers
~Parent of Jakiyla Wester, Waukegan,IL
---
March 15th, 2023
Michael,
We are always joking around, you and I. It makes me feel special and important to be perfectly honest. It's very similar to how my Dad makes me feel, and I'd wager it's how you made Kaitlin feel. You were so clearly proud of her; hearing you talk about her makes me adore you even more.
I was able to watch your address at the funeral and am so moved by the bond you clearly had with her. I am sure you'll hear this a thousand times, but I'm so sorry. You are one of the most kind and positive and warm people I've yet to meet and it just doesn't make sense. It's not fair. I'm so sorry Michael.
Sending the largest amount of hugs one could get away with while still being work-appropriate.
Alli
~Alli Manning
~Michael's Colleague, Germantown, NY
---
March 15th, 2023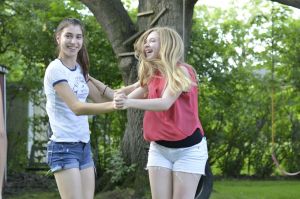 Not a soul who knew Kaitlin could say a bad thing about her–she was pure joy. Being in many high school shows with her including the spring play, "The Children's Hour", which she was awarded the Gypsy Coat, I became close with her in high school. She was the definition of The Gypsy Coat. I remember she was always boosting me up, telling me how incredible I was and making me feel confident. Theatre in high school wouldn't be the same without her.
~Jenna Getty
~High School Friend, Deerfield, IL
---
March 15th, 2023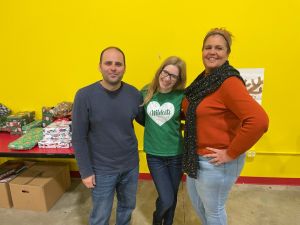 Kaitlyn, you will be missed ! Your cheerful spirit and joyful personality will always be cherished.
We are thankful that you were part of our life.
Rest in peace.
~Brenda & Moisés
~2nd Grade Team Oakdale, Waukegan, Illinois
---
March 14th, 2023
I had the great honor of having Kaitlin as a student. She was a truly amazing young lady when I met her in 6th grade. I am so proud that she too became a teacher. To her family and friends, may her memory forever be a blessing.
~Stephanie Horwitz
~Other,
---
March 14th, 2023
Kaitlin's smiling face and positive attitude! She was a joy to work with and she will be missed.
~Enrico Ferri
~Oakdale colleague, Glenview
---
March 14th, 2023
Dear Kaitlin!
Thank you and fly high sweet angel. See you soon friend and partner!
With love, Maria
~Maria Alicea-Collazo
~Co-workers at Oakdale Elem. School, Waukegan, IL
---
March 14th, 2023
I am so sorry for your loss, Michael and Tarali. I never had the great good fortune to meet Kaitlin, but I did hear about her in stories that Michael would share. A loving and proud father who would describe the life of his daughter as a teacher in the US today. There was a lightness in Michael's voice when he spoke of his family – he was always funny and warm when we spoke – but an extra richness crept into our conversations when Kaitlin and Allison were mentioned. It may take some time before that timbre in Michael's voice returns, but I trust with time and memories that it will. For now, embrace the sounds that precede tears and know that your friend mourns deeply with you. All my love and deepest condolences to you, Olivia
~Olivia Lockwood
~Colleague of Michael's, Richmond VA
---
March 14th, 2023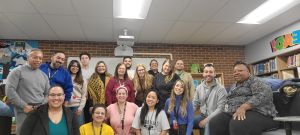 Kaitlin was a ball of energy in our school building. Every meeting she would be our cheerleader, cheering us on for participating. She was a dedicated teacher to her students and always wanted to look for ways to help students grow. My memory of her will leave a lasting impression on my mind, she was my answer buddy in meetings, we would look at each other to see which one of us should answer a question and we would make funny face to each other to not answer any question, we were very vocal.
~Beatrice Reyes
~Colleague, Waukegan, IL
---