Service Information
Service : Sunday, November 5th at 2:00 pm
Service Location: Shalom Chapel Service
Shalom Memorial Funeral Home
1700 West Rand Road
Arlington Heights, IL 60004
Interment:
Shalom Memorial Park
1700 W. Rand Road
Arlington Heights
Shiva Information
Shiva Information
The Family will be receiving calls of condolence at:
Max and Benny's Restaurant
461 Waukegan Road
Northbrook, Illinois
Sunday 4:30 PM – 8:00 PM
Cards of condolence can be sent to:
The Family of Arlene Marks
c/o Shalom Memorial Funeral Home
1700 W. Rand Road
Arlington Heights, Illinois 60004
Contributions
The Gardner Marks Foundation
c/o Daniel Thau
220 Dean Street
Brooklyn, New York 11217
Obituary
Arlene Marks, 89, passed away of November 1, 2023. Arlene was born on the North-side of Chicago in 1934. Arlene belongs to the great artistic Chicago tradition. Her taste for meticulous patterns, and a hyper-realistic quality are trademarks of the late 60's and 70's Chicago School, heralded by well-known Chicago artist Ed Paschke, with whom Arlene studied. Arlene's art reflects her passion for the city of Chicago and for life. For many years she has developed what she described as her "Dottism" technique, a kind of "Pointillism" borrowed from the French Impressionists and adapted to her particular purpose. Arlene gained recognition in Illinois with the creation of "Wrigley Field In The Round," a 36 panel panoramic mural considered to be her major achievement. Arlene's other Chicago Centric accomplishments include "Milwaukee Avenue Series" , "Chicago Heads", "Riverview Park" and the Graceland Cemetery Series." Her work demonstrates that Arlene is far from being only a painter – she is an urban poet.
Arlene was an avid advocate for social justice. She was once honored as Volunteer of the Year by the Howard Brown Clinic. She was married to Chicago Attorney the late Jerome Marks for 37 years. The loving mother of Suzan Schmetterer, David (Nancy), Ilyse (Michael) Kelly, and Laurence; cherished grandmother of Sam (Beth), Max and Jacob Schmetterer, Hannah, Sydney, and the late Gardner Marks; Emma (Michael Elgart) Kelly-Elgart and Michael Kelly; Ian, Noah, Mia and Jonah Marks; much loved great grandma of Juliet and Audrey Schmetterer and Julia Beth Kelly-Elgart; dear sister of Eleanor (Cy) Wax. Memorial donations in her honor can be made to The Gardner Marks Foundation c/o Daniel Thau 220 Dean Street Brooklyn, NY 11217. Interment Shalom Memorial Park. Chapel service, Sunday, November 5, 2023; 2 PM at Shalom Memorial Funeral Home 1700 W. Rand Road, Arlington Heights, IL. For the link to view the service, shiva information and to leave condolences: www.shalommemorial.org or (847) 255-3520.
Guest Book & Memories
Share your memories and photographs below.
November 25th, 2023
Arlene was a treasure. My wife Jane and I became related to her from our daughter Elizabeth's marriage to her grandson Sam Schmetterer. Among our many enjoyable times with Arlene, one of the most memorable was taking her to the Art Institute of Chicago a few years ago, on what was her final visit there. She was a warm, creative and outspoken woman of strong character. But most of all, she was a beloved mother and grandmother who deeply loved her family and friends. Arlene is an inspiration to us all and she will always be warmly remembered.
~Phil Mullins
~My son-in-law Sam Schmetterer's Grandmother, Berlin
---
November 7th, 2023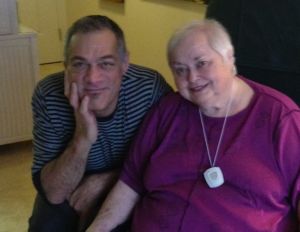 I met Arlene at Howard Brown in 1988. Arlene was a volunteer for me at AIDS Walk Chicago for three years. We remained friends after that.
My partner David Barlow looked forward to her art shows and our lunches and dinners, both in restaurants and at our houses in Chicago. She was a good and kind friend!
~Stephan Donovan
~Friend, Tucson, Arizona
---
November 5th, 2023
I have such fond memories of Arlene, and the entire Marks brood. Growing up a few blocks away, BFFs with Ilyse, I saw Arlene a lot as a kid and was always amazed by her creativity, warmed by her affectionate nature, and tickled her sometimes silly sense of humor. She was a wonderful friend to my mom, Phyllis. They shared a love of art, movies and books, as well as a strong commitment to feminism, civil rights, and progressive politics. Arlene's legacy as an artist is truly impressive, and equally impressive is her legacy as a mother, grandmother and great-grandmother. I know you will miss her, and I will too. My sincere condolences, and love to you all.
~Vicki Weiner
~Family friend, Brooklyn, NY
---
November 4th, 2023
I sill have fond memories of holiday parties at the Marks home: Rosh Hashana, Thanksgiving, and Passover. Memories of playing and running the halls with Laurence and Ilyse. I still regret never finding the afikomen, but reading The Four Questions as the youngest was fair compensation. Arlene was such a wonderful mom to all and the best party host. I am so sorry for your loss and my thoughts are with you all at this difficult time. –Howard Borchew
~Howard Borchew
~Cousin, Saratoga, CA
---
November 4th, 2023
My memories of growing up with "Aunt" Arlene and family are and will always be fond ones. She truly was like a second Aunt as well as "Uncle" Jerry. We shared a love of art together and I always admired her talent. She even bought me my first portfolio I used for many years. May her memory be a blessing and the beautiful art she created enjoyed by her family and future generations to come.
~Rob Kahn
~Family friend, Deerfield, IL
---
November 3rd, 2023
Please accept my deepest condolences for your loss. Arlene Marks was a wonderful person and I'll miss her very much.
~Halina Haag
~Friend, Roselle
---
November 3rd, 2023
To the Marks family,
I was sad to read about Mom. I will always remember her with a smile on her face and a kind word for everyone. She was a great neighbor, lots of wonderful memories.
May her memory be for a blessing.
Gloria Taussig
~Gloria Taussig
~Friend, Highland Park
---
Memorial Yahrzeit Request
You will receive an annual yahrzeit reminder and the associated prayers in an email year.
"*" indicates required fields
HONORING LIFE. CHERISHING MEMORY. ®