Service Information
Service : Thursday, September 7th at 12:15 pm
Service Location: Shalom Chapel Service
Shalom Memorial Funeral Home
1700 West Rand Road
Arlington Heights, IL 60004
Interment:
Shalom Memorial Park
1700 W. Rand Road
Arlington Heights
Obituary
Harry Greenwald, 93, beloved husband of Brenda Kolar; loving father of Jacqui, Larry (Jessa), and Brad (Peggy); treasured and proud PopPop of Gabrielle, Zachary, Rebecca, Myles, and Trevor; devoted son of the late L. Leo and Regina Greenwald; dear friend to many.
Harry graduated from Syracuse University. He proudly served in the U.S. Navy on the USS Salem CA-139 and USS Randolph CVA-15. Harry enjoyed sailing, travel, tennis, and history. He was a member of the Plastics Pioneer Association and was a leader in the plastics industry with his distributorship, molding, fabrication tool, plumbing businesses. He also founded the first industry magazine devoted exclusively to plastics distributors. Harry was a philanthropist supporting many organizations such as the Lupus Society, Hadassah (to support Hadassah Medical Centers in Israel), ORT America, Jewish National Fund, Magen David Adom, Give Kids The World Village, The Make-A-Wish Foundation, The Ronald McDonald House and Cohen Children's Hospital.
Chapel service 12:15 PM Thursday, September 9th at Shalom Memorial Funeral Home, 1700 West Rand Road, Arlington Heights, Illinois. Interment Shalom Memorial Park. In lieu of flowers donations may be made to Hadassah (www.hadassah.org), American Friends of Magen David Adom (www.afmda.org), or Suncoast Hospice (www.suncoasthospice.org). To leave condolences and for information, including link to view service: www.shalommemorial.org or 847-255-3520.
Guest Book & Memories
Share your memories and photographs below.
September 20th, 2023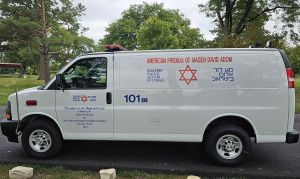 Magen David Adom Ambulance
Presented to the people of Israel
In Memory of Harry Greenwald
By The Greenwald Haupt Charitable Foundation
Chicago, Illinois 2023
~Shalom Memorial Funeral Home
~Funeral Home Staff, Arlington Heights
---
September 13th, 2023
Brenda,
Scott and I have always cherished our memories with y'all. So many laughs around the dinner table. Harry was a class act that left a lasting impression.
Warmly,
Danielle
~Danielle Banks
~Family Friend, Denver, Colorado
---
September 7th, 2023
Many a day in the tennis court . Fond memories of chats about the world. Harry's Naval experiences and the politics of the day. We will miss him. A man if the world.
~STEPHEN MORRIS
~Friend, Chicago, Illinois
---
September 6th, 2023
Was a close friend of Harry for many years. Were closely involved in business and tennis.
I have many fond memories of some good times we spent together. We were almost
identical in age.
~Jack D. Stone
~Friend, IL Chicago
---
September 6th, 2023
GREENWALD FAMILY,
STUART AND I ARE SENDING OUR THOUGHTS AND PRAYERS TO YOU ALL.
JOY & STUART
~JOY & STUART WALSKY
~FRIEND, SEMINOLE, FL
---
September 5th, 2023
While I did not have the privilege of knowing him, Mr. Greenwald was a member of Society of Plastics Engineers since 1957, one of the longest tenures in our Society's history. He was a member of our Chicago Section and our Plastics Decorating and Assembly Division, where his contributions were felt in the fledgling years of our industry. His recognition as a "Plastics Pioneer" is appropriate and well-deserved.
On behalf of all of Harry's colleagues at the Society, we offer our deepest condolences to his family and friends. May his memory be a blessing.
Pat Farrey, CEO
Society of Plastics Engineers
~Patrick Farrey
~Business Colleague, DANBURY, CT
---
Memorial Yahrzeit Request
You will receive an annual yahrzeit reminder and the associated prayers in an email year.
"*" indicates required fields
HONORING LIFE. CHERISHING MEMORY. ®