Service Information
Service : Monday, November 20th at 10:00 am
Service Location: Shalom Chapel Service
Shalom Memorial Funeral Home
1700 West Rand Road
Arlington Heights, IL 60004
Interment:
Shalom Memorial Park
1700 W. Rand Road
Arlington Heights
Shiva Information
Shiva Information
Zieve Residence
1417 Bordeaux Court
Highland Park, IL 60035
Immediately following interment until 7 PM
Contributions
Congregation Bene Shalom
4435 Oakton Street
Skokie, Illinois 60076
http://www.beneshalom.com
Obituary
Gloria J. Zieve, née Friedman, 96. Beloved wife for 46 years of the late Leonard; devoted mother of David (Nancy) Zieve, Michael Zieve, and Jon (Janet) Zieve; cherished grandmother of Amanda (James) Fogarty, Rachel (Brandon) Bryant, Jacob (Marian) Zieve, and Samuel Zieve; proud great-grandmother of Theodore Leonard Fogarty; caring sister of the late Larry Friedman; loving aunt, cousin, and friend of many. Born in Minneapolis in 1927, Gloria attended the University of Minnesota where she met and married naval officer Leonard Zieve in 1948. The family lived in Chicago for several years before moving to Chantilly in Highland Park in 1975, where Gloria still lived. Gloria was very much involved in creative endeavors and the arts. She worked as a docent at the Museum of Contemporary Art, was a fashion artist for the Mandel Company, and a gifted painter. She will be deeply missed by all whose lives she touched. Chapel service Monday, November 20, 10 AM at Shalom Memorial Funeral Home, 1700 W. Rand Road, Arlington Heights. Interment following at Shalom Memorial Park. For additional information, shiva and a link to view the service online, visit Shalom Memorial Funeral Home, www.shalommemorial.org 847-255-3520. In lieu of flowers, memorial contributions may be made to Congregation Bene Shalom (where Gloria was a board member), www.beneshalom.com
Guest Book & Memories
Share your memories and photographs below.
November 21st, 2023
Gloria always amazed me by her abundance of love radiating from her. She accepted everyone and seemed to care for all with real sincerity. I can only hope to learn from her beautiful example how to embrace life, beauty and humanity.
I'll miss you Gloria.
~Charlotte Whyte
~Friend, Lafayette CO
---
November 20th, 2023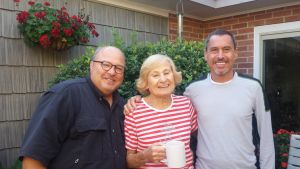 I am not even sure where to start here as Gloria Zieve was to me my second Mom growing up. Always present with a smile, making me and my friends welcome at Jons house at "612". She hosted me in 2015 during my high school reunion, always putting out a platter of food. "Eat, Meyer", she would tell me. My last encounter with her was at Jon and Janets wedding in 2019. We danced together and I just relished that moment. She led a "Glor-ious" life indeed! My heartfelt condolences to Jon, Michael, and David and the entire Zieve clan. May Glorias memory always be of blessing.
~Dave R Meyer
~Best Friends Mom (and my second Mom), Vancouver, WA
---
November 19th, 2023
I will remember Gloria for her extraordinary grace and beauty. She had an immeasurable zest for life which was wildly contagious. Her wicked wit and wisdom is worthy of emulating. She remains relevant and I miss her already.
~Lori Foster
~Friend, San Diego, CA
---
Memorial Yahrzeit Request
You will receive an annual yahrzeit reminder and the associated prayers in an email year.
"*" indicates required fields
HONORING LIFE. CHERISHING MEMORY. ®