Service Information
Service : Monday, September 11th at 12:15 pm
Service Location: Shalom Chapel Service
Shalom Memorial Funeral Home
1700 West Rand Road
Arlington Heights, IL 60004
Interment:
Shalom Memorial Park
1700 W. Rand Road
Arlington Heights
Shiva Information
Shiva Information
Orzoff Residence
2472 West Course Drive
Riverwoods, Illinois 60015
Monday following the service to 8 PM
Tuesday 6 PM to 8 PM
Minyan each night at 6:30 PM
Contributions
Digestive Health Foundation
http://www.digestivehealthfoundation.org
Obituary
Stewart C. Orzoff, 80, beloved husband and best friend of Bonnie nee Dictor for 58 wonderful years; loving father of Jordan, Michael (Sara) and Scott (Stephanie); cherished grandpa of Ellen, Cameron, Tyler and Lucy; devoted son of the late Tina and Max; adored son-in-law of the late Mildred and Jerry Dictor; dear brother of the late Ronnie (the late Lawrence) Robbins; treasured uncle, cousin, friend and colleague of many. Stewart was a proud and dedicated lawyer for 56 years. He was an avid fisherman and White Sox fan. His greatest joy in life was his family. In lieu of flowers, donations may be made to the Digestive Health Foundation at www.digestivehealthfoundation.org. Chapel service Monday 12:15 PM at Shalom Memorial Funeral Home, 1700 W. Rand Road, Arlington Heights. Interment Shalom Memorial Park. For the link to virtually view the service, shiva information and to leave condolences, www.shalommemorial.org and (847) 255-3520.
Guest Book & Memories
Share your memories and photographs below.
September 11th, 2023
I am so sorry for your loss. My heart goes out to you and the family. It was an honor to know him. He always treated me like a person, not just an office staff member. We had many conversations and talks about other things than work. He was kind, smart, funny and caring. His love for the White Sox always put a smile on his face when he talked about them. I was honored to be his friend. He will be truly missed. Love and kisses and prayers to all of you.
~Marcy Rotheiser
~Friend and Office Buddy, N. Las Vegas, NV
---
September 9th, 2023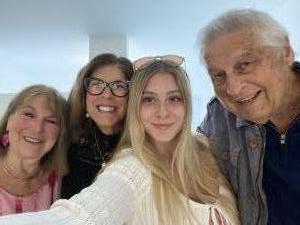 Uncle Stu was a giant hearted man, loved dearly and deeply appreciated by his family and many friends. He made Orzyland and holiday celebrations exciting and special…ghost stories, plagues, fishing excursions, poker games…his positive energy and enthusiasm for life will forever remain with so many of us! We love you Uncle Stu❤️
~Racquel
~Niece, Evergreen, CO
---
September 8th, 2023
I met Stewart when he married my cousin, Bonnie. Stewart was such a wonderful man. He was kind, smart, funny and caring; a mensch. In the almost 60 years I have known him, I have never heard anyone make any reference to him otherwise. He was loved. I was so impressed by his legal career, including that he brought his wife and sons into the practice. My life is truly enriched for having known him, and I will miss him. My sincere condolences to Bonnie and the rest of his family.
~Scott Levin
~Cousin, Elmhurst, IL
---
September 8th, 2023
we went to law school together, and were in a weekly study group. Stu, was a real good guy, funny and good friend. I am so sorry for your loss. i
~Peter C Ritsos
~old friend, mettawa il. 60045
---
Memorial Yahrzeit Request
You will receive an annual yahrzeit reminder and the associated prayers in an email year.
"*" indicates required fields
HONORING LIFE. CHERISHING MEMORY. ®