Service Information
Service : Tuesday, November 21st at 2:15 pm
Service Location: Private Service-Live Stream Access
Shalom Memorial Funeral Home
1700 West Rand Road
Arlington Heights, IL 60004
Interment:
Shalom Memorial Park
1700 W. Rand Road
Arlington Heights
Shiva Information
Shiva Information
The family will receive public condolences
Tuesday from 5 PM to 9 PM at
The Continental Restaurant
788 S. Buffalo Grove Road
Buffalo Grove, Illinois 60089
Contributions
WTTW
https://secure.wttw.com/
Obituary
Ruth Rosenberg nee Watman, 95, beloved wife of the late Seymour; loving mother of Cynthia Rosenberg (Bob Levy) and Leigh (Judy) Rosenberg; cherished grandmother of Daniel, Hannah, Lois (Alan), David, Carl (Molly), Natalie, Claire and the late Molly; adored great grandmother of Aaron, Naomi and Macie; devoted daughter of the late Mary and Michael Watman; dear sister of Dorothy (Sidney) Kohl and the late Albert (Bella) Watman and Arlyne (Harold) Simmonds; treasured aunt and friend of many. In lieu of flowers, donations may be made to WTTW at secure.wttw.com. Private funeral service, please attend via livestream on Tuesday, November 21st at 2:15 PM. For the link to view the service virtually, shiva information and to leave condolences, please visit Shalom Memorial Funeral Home at www.shalommemorial.org or (847) 255-3520.
Guest Book & Memories
Share your memories and photographs below.
November 22nd, 2023
Lee and Cindy,
So sad to hear the news today! Although it is so sad to lose her, her life was filled with beautiful memories and joy. I see that the funeral was yesterday but I am with you in spirit Ruth was such a wonderful neighbor. I remember her and Temmie dancing at our wedding with such grace. I remember her telling me about their trip to Russia with the soda machines that had a cup tied to a metal string for everyone to drink from. Your parents gave us a souvenier from the trip, a hollow woodern figurine with a smaller one inside and another smaller one, etc. Who knew I would end up marrying a Russian? I remember coming to dinner one night with mark and for the first time, was served fruit salad and cottage cheese for dinner. I was not use to those kind of healthy meals. :). I remember them walking to Lerner Park and playing tennis together. They really set a great example for staying active and young into their senior years. She will be missed. Love to your families. Her memory stays fresh in the hearts and minds of those who knew her.
Perry
~Perry Myers
~Friend and former Next Door Neighbor, Evanston
---
November 21st, 2023
I have loved Ruthie & Teemo, my whole life as they were best friends with my parents. Since they fixed my parents up, I know I would not be here if it wasn't for them.
Ruthie, was always happy and relaxed at all times I visited with her or spoke with her. It was always comforting for me.
I will deeply miss Ruthie, and Teemo & I am so grateful they lived so long and such a happy, beautiful life and for the opportunity I had to know them.
I felt very fortunate every opportunity to visit with Ruthie, and Teemo. And I hope they are dancing together forever now.
.
~Andy Schulgasser
~Friend, San Diego CA
---
November 21st, 2023
our deepest cpndolences to all the family
~howard zolt
~friend, skokie
---
November 20th, 2023
WE WERE GOOD FRIENDS WITH SEYMOUR AND RUTH FROM 1460 RENAISSANCE DR. AND EVEN BETTER FRIENDS AFTER SEYMOUR AND RUTH RETIRED. WE WILL MISS BOTH OF THEM.
~DENNIS and MARCIE KANE
~TAX RETURN PREPARER FRIEND, MT PROSPECT, IL 60056
---
November 20th, 2023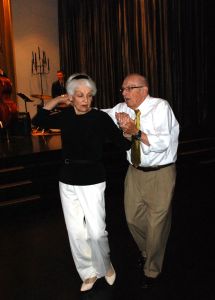 We have so many memories of Ruth. Mine were of her and I trying to make sense of my taxes No computer programs yet. But it was never about the taxes, it was about the visit and reminiscing about the places we travelled. We were happy to support WTTW in her memory. May her memory and lust for education and kindness toward others be a blessing.
~Madeleine and Jack Neems
~Friends, HIGHLAND PARK, IL
---
November 20th, 2023
I have the fondest memories of Aunt Ruthie…she was thoughtful, welcoming and always took genuine interest in learning about what was going on in everyone's lives. She had great stories and great style & I always looked forward to breaking the fast at her house and will always remember her and Uncle Teemo being the first ones on the dance floor at any event. She will be greatly missed!
~Lisa Nunez
~niece, Deerfield, IL
---
November 19th, 2023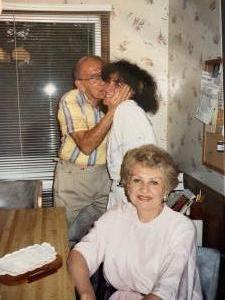 I worked for Seymour and Ruth for over 15 years and they became like family. They shared in my simchas and watched my family grow up. Ruth was a wonderful role model for me and someone I admired. She was beautiful, stylish, cultured, well traveled, kind, a wonderful writer and a great listener. I look back fondly at the times we met for lunch in Nordstroms to catch up on all that was going on. I know how much she loved her family and I know they will have many good memories to look back on.
~Sharon Rosen
~friend, Chicago
---
November 19th, 2023
I know how much my parents Sidney and Charlotte loved Ruth's friendship. From traveling together , tennis and everything in between. She was a wonderful friend.
~Dawn Projansky Lavin
~Friend, Wilmette,IL
---
Memorial Yahrzeit Request
You will receive an annual yahrzeit reminder and the associated prayers in an email year.
"*" indicates required fields
HONORING LIFE. CHERISHING MEMORY. ®