Obituary
Scott A. Berger, 43, loving and cherished son of Jacqueline and Joel Berger; adored nephew of June (Robert) Tatarcyk, the late Wayne (Linda) Gehl and the late Dr. Diane (Jeff) Ehrlich; beloved cousin of Jay (Michelle) Ehrlich, Brian (Stella) Ehrlich, Bruce (Sheree) Nathanson and their families; treasured friend of many. In lieu of flowers, donations may be made to the Jewish National Fund (www.jnf.org) or a charity of your choice. Chapel service Wednesday, November 1, 2023, 12:15 PM at Shalom Memorial Funeral Home, 1700 W. Rand Road, Arlington Heights. For a link to virtually view the service, shiva information and to leave condolences, www.shalommemorial.org or (847) 255-3520.
---
Service Information
Service : Wednesday, November 1st at 12:15 pm
Service Location: Shalom Chapel Service -Shalom Memorial Funeral Home
Interment:
Shalom Memorial Park
1700 W. Rand Road
Arlington Heights
Guest Book & Memories
Share your memories and photographs below.
November 9th, 2023
Dear Jackie and Joel:
Having seen both of you with Scott several times at Nino's over the summer, we were shocked and saddened yesterday to hear of Scott's passing. We feel terrible that we were unaware and therefore did not attend the service. I just viewed the funeral service online and it was a beautiful tribute to all the love in Scott's life – the love that he gave and the love that he received. As his Pony League baseball coach, Mark remembers him as a team player who was never selfish and just a sweet kid. May loving memories bring you comfort at this difficult time. Our hearts are with you.
Judy and Mark Gerstein
~Mark and Judy Gerstein
~Northbrook friends, Northbrook
---
November 8th, 2023
Every moment spent with Scott was filled with joy and kindness. Scott shared love and grace with everyone he came in contact with. We were all blessed by his smile, beauty, and wonderful humor. Our endless love to Joel and Jackie.
~Peter Skountzos
~Friend, San Antonio, Tx
---
November 2nd, 2023
Joel and Jackie,
My heart broke when I heard of Scott's passing. I fondly remember the times we all spent together playing baseball and what an incredible athlete he was. I remember his Bar Mitzvah as one of the best parties we ever attended. He brought great joy to anyone who knew him. He will be missed and let his memory be for a blessing. My thoughts and prayers are with all of you now and forever. My sincerest condolences.
Barely Goldberg
~Barry Goldberg
~Friend, Northbrook,Illinois
---
October 28th, 2023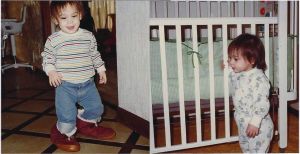 We're fortunate to have been part of Scott's life. Scott was a natural teacher of sports. His warmth and compassion made him loved by everyone he was coaching. His humor and sensitivity always prevailed . Scott's spirit will live on through his family and friends. We miss him terribly. Our prayers are with Jackie and Joel.
Jan and Rich Sefcik
~Janice & Richard Sefcik
~Friends, Fairview, NC
---
October 27th, 2023
Our deep sorrow for the recent loss of Scott can only be mirrored in our deep loving memories shared over the past 35 years.
The Sharps/Schilling Family
~Dan and Mari-Beth Sharps
~Family friends, Schaumburg, Il 60193
---
October 26th, 2023
Dear Jackie and Joel,
Our deepest condolences on your loss. We have such fond memories of the hockey days, dinner at Marie's, a wonderful bar mitzvah, and being friends with such sweet, loving people. Words cannot express how sorry we are you have to go through this. We know that there isn't a child that could have been loved more than you loved Scott.
Elissa and Peter Herman
~Elissa and Peter Herman
~Friend, Goodyear, AZ
---
October 26th, 2023
We are so saddened to hear of your loss. We will always remember Scott's kindness and wonderful smile. Our thoughts and prayers are with you.
Love,
Rick and Kathy Ruh
~Richard Ruh Family
~Friend, Northbrook, Il
---
Memorial Yahrzeit Request
You will receive an annual yahrzeit reminder and the associated prayers in an email year.
"*" indicates required fields
HONORING LIFE. CHERISHING MEMORY. ®