Obituary
Dr. Jay Goldstein, 70, adored son of Lee and the late Abraham Goldstein; beloved husband of Marc Matlin, together for 40 years; loving brother of Berton (Barbara), Gary (Marla) and Ken (Karen) Goldstein; wonderful brother in-law of Eric (Gloria) Matlin and Marlee (Kevin) Grandalski, treasured uncle to Miriam Osgood, David (Deenie) Goldstein, Ruthie (Mordechai) Paretzky, Zev, Rebecca, Emily, Aaron, Celia, and Isaac Goldstein, Zack (Katie) Matlin, Arielle (Sean) Hofherr, Sarah, Brandon, Tyler and Isabelle Grandalski; much-loved great-uncle, cousin and friend to many. In lieu of flowers, donations may be made to Beth Hillel B'nai Emunah, www. www.bhbe.org, JUF Emergency Fund, www.juf.org or Pet Profile Rescue, Homer Glen, Illinois, www.petprofilerescue.org. Jay was a respected colleague, mentor, and teacher to hundreds of physicians. Chapel service Wed, Nov 1, 10:00 AM at Shalom Memorial Funeral Home, 1700 W. Rand Road, Arlington Heights. Interment following at Shalom Memorial Park. For additional information, shiva and a link to view the service online, visit Shalom Memorial Funeral Home, www.shalommemorial.org, 847-255-3520.
---
Service Information
Service : Wednesday, November 1st at 10:00 am
Service Location: Shalom Chapel Service -Shalom Memorial Funeral Home
Interment:
Shalom Memorial Park
1700 W. Rand Road
Arlington Heights
Guest Book & Memories
Share your memories and photographs below.
November 9th, 2023
I was Jay's first fellow at NorthShore. At first he was intimidating as I remember full well what would happen if I did not come prepared for journal club. He was tough on us but also extremely supportive and caring. He was a wonderful mentor and dear friend. The lessons I learned from him I now pass down to my fellows. And hopefully they will continue to pass those lessons from Jay along to the next generation. My condolences to Mark and the rest of his family. He will be truly missed.
~Amir Patel
~Friend, Milwaukee, WI
---
November 6th, 2023
Jay was my boss at UIC's Dept of Medicine, where I was the Dir of IT for 6 years. Serious when he needed to be while light-hearted and funny where appropriate, Jay left a lasting memory far beyond being a world-class physician (and dressing in all black during that time). He trusted me enough to come into his and Marc's home numerous times. We recently reconnected after years of life, and he was still generous with his time like there was no gap. We got a chance to catch up, and I was thrilled to hear of his marriage after so many years together. He made sure to ask for all of my current contact information, so I could be invited to the next gathering of the old UIC crew. Unfortunately, that was only a few months ago, but so glad I reached out when I did. Jay Goldstein, Alav Ha-sholom.
~Don Donzal
~Co-Worker, Westmont, IL
---
November 6th, 2023
Jay was one the most influential individuals of my adult life. He led me to a career in medicine and mentored me along the way. His dedication, and most importantly, the time he spent mentoring me was one of many of the rich gifts Jay brought to this world. His amazing personality brought light to any situation. I will cherish the time we spent together and always remember the impact he made on my life.
Marc – my deepest condolences. Jay's love and dedication to you was simply beautiful. As I'm sure you know, he had such a significant impact on so many people that his memory and legacy will live on .
~Justin Boike
~Mentee, Chicago, IL
---
November 5th, 2023
Jay was a wonderful person. We got to know him and Marc on the beach in Michigan.
As we watched the service it is evident that he meant so much to so many people.
Marc, cherish the memories and may God bless and comfort you at this difficult time.
~Bob & Scott
~, Glenn,Michugan
---
November 4th, 2023
I first met Jay when he was a resident at UIH in 1979. We eventually grew to be close colleagues there. In the late 90s and early 2000s, Jay, Tom Layden and I formed a model collaboration between pharmacy and medicine that benefited our patients and our colleges. It had a lasting impact. Jay was a colleague, friend and a great physician. He came to my aid and my daughter's aid when needed – I will miss him as will many.
~Jerry Bauman, PharmD
~Colleague, friend, Naperville, IL
---
November 4th, 2023
We know Marc's life was so much richer because of Jay. We never met but am glad he was with Marc. We donated to the pet rescue in his honor.
~Scott Young and Robert Litchfield
~friends of his husband, Marc Matlin, Chicago, IL
---
November 4th, 2023
Jay was a remarkable man. I loved being in his presence. He exuded joy and optimism even through his difficult journey. I will miss him and hold his memory close.
~Lenny Kaplan
~Friend, colleague, Evanston, Illinois
---
November 4th, 2023
I had the fortune of knowing Jay through my business partner and Jay's sister-in-law, Marlee. What a truly kind, generous, witty and fun person he was to be around and his love for Marc knew no bounds. I count myself fortunate in being able to have been at their wedding last year, knowing it was the culmination of a friendship and love that spanned 40 years. He will be missed and may his memory be a blessing to us all.
~Jack I Jason
~Friend, LOS ANGELES
---
November 3rd, 2023
While working in the deans office at UIC, I met Jay when he was a first year medical student. Such different paths in life…we were the same age. Many years later I had the opportunity to work with him first as a committee member and later as the chair of the Campus Promotion and Tenure Committee. Jay excelled in leading that group allowing everyone to have fair and honest discussions. He was brilliant. He was respectful. I enjoyed working with him. How very lucky am I to have known this wonderful man. Rest In Peace GI JAY (his license plate).😢🙏❤️
~Michele M Mancione
~Friend/co-worker, Chicago
---
November 3rd, 2023
Jay was one of the first people to welcome me when I started working at UIC college of medicine in 1987. He made me feel at home in a new place and had great advice for me as I tried to get a lab established. His sense of humor was infectious and he was always able to command a room with a joke or story. He will be missed by all.
~John Kennedy
~Colleague/friend, Chicago
---
November 2nd, 2023
I met Jay in 1980 at UI College of Medicine. Jay's compassion and concern for his patients was immediately apparent. His ability to understand the issues that surrounded his patients taught me that he was always the best alternative for my friends, colleagues and family members to be referred. Their comments were always extremely positive, as well as grateful to find both a knowledgeable physician and a professional who genuinely cared about them. We had contact after he left U Of I, which was a very significant loss for our institution, and for me, personally. We occasionally ran into each other, and it was always fun to catch up, and see that his passion for all those in his life had only increased. He was a true friend to all those who knew him, and there was no conversation too small or meaningless for Jay to hear out. He truly was unique among his peers. His inspiration will live on in all of us. May his name be used for a blessing.
~Mark Grach
~Friend, Colleague, New Buffalo, Michigan
---
November 2nd, 2023
I have known Jay for many years through Beth Hillel and through his support of the Josselyn Center during the years that Eric and I were on the Josselyn Board. I am honored to have been Jay's friend. The world has lost a truly great human being.
I am heart broken. My condolences to Marc and the entire family on this horrible loss.
Debbie Ebner
~Debbie Ebner
~friend,
---
November 2nd, 2023
We didn't know Jay well but met him while visiting Marc's family. He was kind, funny and loving to those around him. Our hearts are saddened for his families and friends
~Tim and Barbara Stehr
~Friend of family, Carlsbad CA
---
November 1st, 2023
My family have been BH members since the 60's and in fact I was Bar Mitzvahed with Arnie S. I returned to BHBE around 2014. I was a past president of Shaare Tikvah in Chicago and Jay was quick to include me in all things 'Presidential' although this was not neccesary or even wanted. But Jay dragged me in and I became not only involved in BHBE but ended up on the Bima often to be a Gabbai or Torah lifter. It was in these times Jay and I would 'joke around' on the Bima and as pointed out by Jay's Niece during the eulogy, Jay would roll his eyes at some of the Bnai Mitzvah families or other goings on. Jay was quick to smooth things over if things were going awry in the service.
Jay would always instruct me in the proper ways to do things. While Jay was a good teacher, I am not necessarily a good student. After I did whatever he asked me to do, he would gently give me reminders of the proper way to do what he asked. I know on several occasions when I was Gabbai and Jay would hand me the deck of honor cards and I might confuse who was to be called and when. And always, there was Jay at the base of the Bima giving me signs and/or verbal instructions, always with a smile on his face.
Also attached a joke I told Jay (probably more than once). Since Jay was always smiling, I am not sure he really liked it, but hopefully it seems appropriate.
May Jay's memory always be for a blessing. I will truly miss Jay.
~CARTER GREENE
~Congregant and Freind, LINCOLNWOOD
---
November 1st, 2023
Sending healing prayers to the family. Our Deepest Condolences to the Entire family.
~Betsy Zollicoffer
~, Wauwatosa
---
November 1st, 2023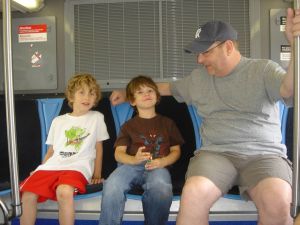 There are too many memories of Jay to single out just one or even several. But I can say that as his former next door neighbor that he was the first person I met on the block even before I moved in. He was so kind and invited me to his home to have Shabbat dinner with him and Marc. It was immediately clear that I had hit the jackpot in purchasing the home next door as it came with the two most wonderful neighbors and friends that any one could ever have. Over the years the friendship grew. I remember on an almost nightly basis for several years where I would just open their front door and announce myself as I walked into their basement just to spend time with them both. They were always so welcoming and simply a pleasure to spend time with. After moving away from them almost 15 years ago I unfortunately didn't get to see them or spend as much time together as I would have liked to but every time I had the opportunity to be around them it was still so wonderful. Jay was truly the definition of greatness. Jay and Marc together were even better. Love both of them like brothers. I feel so blessed to have had them be not only a part of my own life but be there as a constant for my two boys as well who have only known the world with Marc and Jay until yesterday. The memory of Jay is a blessing for all. He was truly one in a million. Going to miss him. Hugs to you Marc. I'm always here for you.
~Jeremy Rose
~Friend, Oak Park, Illinois
---
November 1st, 2023
I am not a Doctor, I am not a long time friend. I am not really even a friend. Just more of an acquaintance, someone who I knew from synagogue. Yet Jay was always kind to me, helpful. During shabbat services you could always count on him in that center back row, there a little early, reading from the scripture. That back row will seem a little a bit empty now.
To his friends, family, Doctors he trained and all the other acquaintances, my condolences on the loss of a great guy.
~David Penzell
~Acquaintance, Chicago, IL
---
November 1st, 2023
Very shortly after I first sat down at Shabbat services at BHBE, and stared to Daven, I found myself looking at a new, friendly face, as Jay offered me an Aliyah. Over the next few years I enjoyed seeing Jay roaming the Sanctuary during Services and keeping things running smoothly, with his customary smile and charm. We also chatted briefly on occasion in the parking lot as he headed back to his JIJAY car.
~Neil Siegel
~Friend from BHBE, Lincolnwood, Illinois
---
November 1st, 2023
didn't know jay very well but he always had time for a chat whenever i saw him at their house
~Mitchell Pierce
~long time family friend and business associate, oak park ill
---
November 1st, 2023
God's Blessing and Comforting prayers –
~David Eaton
~friend from UIC College of Medicine, Hinsdale, IL
---
November 1st, 2023
Dr. Jay Goldstein was a highly respected and devoted member of our BHBE congregation.
We thank him for his support of our clergy and members.
With deepest sympathy, may his memory be for a blessing.
Zelig and Iva Falevits
~Zelig and Iva Falevits
~BHNE Congregation members, SKOKIE
---
November 1st, 2023
My deepest condolences to Mark and the entire Goldstein and Matlin families.
Jay was such a special man and was a gift to all he came in contact with. One of the many benefits of Beth Hillel was the wonderful people and friends like Jay that added so much to my life.
May His memory be for a blessing.
Vicki & Gary
~Vicki Pines
~Friend, Palm Beach Gardens
---
November 1st, 2023
My thoughts and prayers are with both families. Dr. Goldstein will be greatly missed.
~Maria Gonzalez
~Friend, CHICAGO
---
November 1st, 2023
I am one of those people who called Jay for advice….generously given. This is such a major loss! May his memory be for a blessing.
~Paula Resnick
~Friend, Highland Park
---
November 1st, 2023
A good heart has stopped beating, but a heart that has touched so many lives can't help but live on in those it loved. I had the pleasure of knowing Jay for 25 years at UIC Department of Medicine. I have great memories from those days. May he rest in peace.
~Maritza Delgado
~Boss, Mentor and Friend, Cicero, IL
---
November 1st, 2023
My heart felt condolences
~Ed Lisberg
~, Chicago
---
November 1st, 2023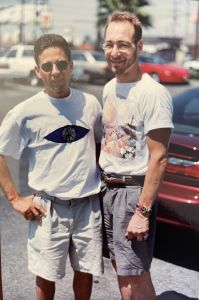 Jay was such a great friend and an amazing human being. Rest in Peace my friend. You will be so missed. 💙
~Ruthie McCrary
~Friend, Bloomfield Hills, MI
---
November 1st, 2023
Working with Jay for 13 years at UIC was truly amazing, he was always supportive, driven, resourceful and a wonderful mentor. Being able to continue the friendship even after no longer working together is something I will always cherish forever.
~Sharon Frazier
~Friend/former employee, Chicago
---
November 1st, 2023
We met in college and I always told Jay he was the smarter Goldstein. We then were classmates in Med School and did our Residency at the same hospital. In 1976 Jay was first to hand me a drink at Linda and my Wedding at Beth Hillel. When I returned from my honeymoon I sat drinking coffee with Jay at the student union. We were about to start our elective rotation.. He said "let's do Orthopedics…I hear it's easy and fun." I intended to go into infectious disease but I chose Orthopedics. Jay's suggestion changed my career and life. When I or my family had a medical problem I could not solve I called the smarter Dr Goldstein. When he answered the phone he always said…" what wrong Wayne?" When we were residents we would get paged for a call for Dr Goldstein. If I did not recognize the person ….the person would ask me if I was the Dr Goldstein whose father was an accountant. Both our fathers were accountants. My heart is broken and I am sad for Mark and your whole family I have known for 53 years. Jay was a wonderful friend and colleague and will always be the smarter. Dr Goldstein to me!
Wayne
Wayne Goldstein MD
~Wayne Goldstein
~Friend, Highland Park, Illinois
---
November 1st, 2023
My Sister, Susanne Matlin, always told me how Marc and Jay always included her .
~Ina Schaffer
~Friend, Highland Park Illinois
---
November 1st, 2023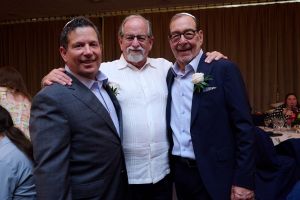 Sending healing prayers and comforting hugs.
~STEVEN M MATLIN
~Uncle, PALM DESERT
---
November 1st, 2023
My life friend and mentor….has been part of my life since 1983….I am who I am because of him…I will miss him terribly…
~Michael L Kochman
~Friend, New Hope, PA
---
Memorial Yahrzeit Request
You will receive an annual yahrzeit reminder and the associated prayers in an email year.
"*" indicates required fields
HONORING LIFE. CHERISHING MEMORY. ®