Service Information
Service : Thursday, August 31st at 12:15 pm
Service Location: Shalom Chapel Service
Shalom Memorial Funeral Home
1700 West Rand Road
Arlington Heights, IL 60004
Interment:
Shalom Memorial Park
1700 W. Rand Road
Arlington Heights
Shiva Information
Shiva Information
The Family will be receiving calls of condolence at:
The Torrey Residence
2590 Crestwood Lane
Riverwoods, Illinois 60015
Thursday following the service until 9 PM
Contributions
Honor Flight
http://www.honorflight.org/donations
Obituary
Milton Port, 85, August 28, 2023. Beloved husband of the late DeeDee nee' Mazor for 40 wonderful years; adored partner of Dale Drexler; loving father of Karyn Nathanson, Ron (Meredith) Port and Laurel (Vince) Torrey; cherished "Papa" of Nikki (David Castro) Nathanson, Amanda Nathanson, Lilly Port, Samantha (fiance' Richard Clark) Torrey, and Skylar Torrey; dear brother of the late Lorri (the late David) Rosen, the late Ruth (the late Paul) Kelton and brother in-law of Gary (Judy) Mazor; much loved uncle, great uncle and friend of many. Milton enjoyed fishing and sailing; however his greatest past time was spending time with his family. Milton's presence is already missed. Memorial donations in his memory may be made to Honor Flight, www.honorflight.org/donations. Interment Shalom Memorial Park. Chapel service, Thursday, August 31, 2023, 12:15 PM at Shalom Memorial Funeral Home 1700 W. Rand Road, Arlington Heights, IL. For the link to view the service, shiva information and to leave condolences: www.shalommemorial.org or (847) 255-3520.
Guest Book & Memories
Share your memories and photographs below.
September 22nd, 2023
I was saddened by the news of Milt passing. My heart goes out to Dale Drexler. Milt made you so happy, a happiness that was so well deserved.
~Honey Sue Springut
~Fiend, Farmington Ct.
---
September 1st, 2023
We have many wonderful memories of our time with Milt & Dale in Palm Springs. Milt always had a great smile, a warm personality, and was a true mensch. He will be sadly missed.
~Hy Kraitberg & Terri Slotnick
~Friends, Winnipeg, MB. Canada
---
August 31st, 2023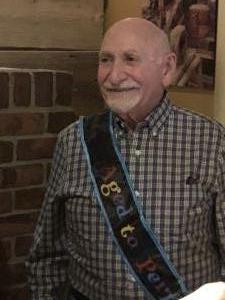 My memory, so many. Uncle Milt was a very special person! Although I am many miles away, I felt incredible comfort knowing he was around and celebrating special events together such as his surprise 80th birthday amongst many more! My latest visits are so very cherished!
I will miss him so very much and will find some comfort in feeling he is with family now, especially his 2 sisters, Mommy and Aunt Lorri.
What a special man!
Love you very much!
Norman
~Norman Kelton
~Nephew, Palm Harbor, FL
---
August 31st, 2023
sorry i could not come in person due to family illness, but i knew him in person he was a kind and happy proud father and grandparent.it was my luck to know him in my life.he was a MENSCH!!!!!i will be watching the funeral streaming.love ken winter one of the guys
~kenneth l winter,dds
~friend, glenview,il60025
---
August 31st, 2023
I am so sorry to hear of Milts passing
My heart is with you. Love kimberly
~Kimberly Starkman
~Friend, Skokie, Illinois
---
August 30th, 2023
How deeply sorry I am to have heard about the passing of Milton I will always remember his friendship RIP my dear friend
~Rabbi Bob Rosen
~friend, Skokie
---
August 30th, 2023
Such a sweet man. My parents enjoyed his warmth and smiles, and we'll miss him. Olav a shalom, and thank you for the time you spent with us.
~Bob Blinick
~, NORTHBROOK, IL 60062
---
August 30th, 2023
I've been lucky enough to know Milt for over 40 years. There are so many wonderful memories but one thing I know he was there for me no matter what. A better friend can't be had. I met Milt when the girls were ice skating and been friends ever since. Rest in peace my friend. ❤️
~Barbara Paul
~Friend, Arlington Heights
---
Memorial Yahrzeit Request
You will receive an annual yahrzeit reminder and the associated prayers in an email year.
"*" indicates required fields
HONORING LIFE. CHERISHING MEMORY. ®