Service Information
Service : Wednesday, May 24th at 2:00 pm
Service Location: Graveside Service – Shalom Memorial Park
Interment:
Shalom Memorial Park
1700 W. Rand Road
Arlington Heights
Shiva Information
Shiva Information
Lake Shore Country Club
1255 Sheridan Road
Glencoe, Illinois 60022
Wednesday, 4 PM – 8 PM
Contributions
Ravinia Festival
418 Sheridan Road
Highland Park, IL 60035
or by making an online donation,
https://raviniawb.org/tribute-fund/tribute-gifts/
Obituary
Claire Rosenfeldt nee Baaba, 88, beloved wife of the late Marvin; loving mother of Elise (Chris) Klein and Marc Rosenfeldt; adored grandmother of Gabrielle Klein and Jack Klein (Fiancee, Morgan Krahmer); devoted daughter of the late Jonathan and Shalem Baaba; dear sister of the late Mary Johannan and Catherine Baaba; treasured aunt, cousin and friend of many. Memorial contributions in memory of Claire Rosenfeldt can be made to Ravinia Festival, at 418 Sheridan Road, Highland Park, IL 60035, or by making an online donation, https://raviniawb.org/tribute-fund/tribute-gifts/. Graveside service, Wednesday, 2 PM at Shalom Memorial Park, 1700 W. Rand Road, Arlington Heights. For information, including a link to view the service, shiva or to leave condolences: Shalom Memorial Funeral Home, www.shalommemorial.org or (847) 255-3520.
Guest Book & Memories
Share your memories and photographs below.
May 24th, 2023
She was always a pleasure to be around. A lovely woman that will be dearly missed.
~Daniel Rivera
~, Chicago
---
May 24th, 2023
One of many lasting memories I is the beautiful notes that Claire sent when I had to separate her procedures. She always seemed to be very concerned, very caring and invested for lack of a better word and people that she cared about. She was always very sweet and kind to my family, and that will never be forgotten.
~John Gallivan
~Elise's brother in law, IL
---
May 23rd, 2023
Sending you and you family Love.
~Amy & Richard D'Amico
~Friends, Naples, Fl
---
May 22nd, 2023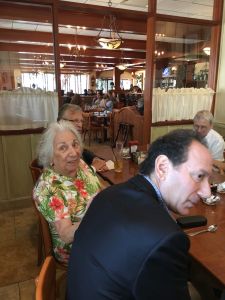 Dear Elise , Chris and Marc. I am saddened by the loss of dear Claire. Many memories for me are as a little girl, growing up and visiting Chicago for many years. My mother with Auntie Shalam , and the family. Happy to have connected with Claire over the years and her children and grandchildren. May the family find peace and comfort in the following days. Love and Peace, Maxwell and Julie Lazar Taylor, Flint, Mi.
~Julie Taylor
~Cousin, Flint
---
Memorial Yahrzeit Request
You will receive an annual yahrzeit reminder and the associated prayers in an email year.
"*" indicates required fields
HONORING LIFE. CHERISHING MEMORY. ®