Obituary
Dr. Sidney Samuel Cohen, 82, beloved husband and best friend of Inis Cohen, née Steinberg, happily married for 57 years. Loving father of Laurence (Laura), David and Julie (fiancé Matthew Brink) Cohen. Cherished "Doc" of Mitchell, Sarah and Jillian Cohen. Dear brother of Annette "Cookie" (Harvey) Evins and the late Alfred (Marlene) Cohen. Much loved brother-in-law of Hy (the late Roberta) Weintraub. Favorite uncle to many. Dr. Sidney Cohen was a Vietnam Veteran and was awarded the Bronze Star for bravery and valor. He was a dedicated physician at Northwest Community Hospital for 40 years where he impacted the lives of patients, colleagues, and delivered thousands of babies. He led a life of faith, love, principles, and humor. The family would like to extend a heartfelt thank you to Gabriela Torres for her care and dedication for one year to Sidney and his family. ln lieu of flowers, donations may be made to the American Cancer Society, www.cancer.org. Graveside service Friday, June 23, 12:00 PM at Shalom Memorial Park, 1700 W. Rand Road, Arlington Heights. For additional information, shiva and a link to view the service online, visit Shalom Memorial Funeral Home, www.shalommemorial.org, 847 -255-3520.
---
Service Information
Service : Friday, June 23rd at 12:00 pm
Service Location: Graveside Service -Shalom Memorial Park
Interment:
Shalom Memorial Park
1700 W. Rand Road
Arlington Heights
Guest Book & Memories
Share your memories and photographs below.
June 24th, 2023
Innis, David, Larry, Julie —
As David's long-time friend and an admirer of the Cohen family, what a privilege it was to enjoy yesterday's service via the livestream! Thank you so much for making that available to those of us who wanted to be there, but could not. The service was beautiful, striking, memorable, and wholly befitting a wonderful person, family man, military hero, and servant to others. A remarkable life was celebrated, and I for one was very moved by the heartfelt words of Larry, David, David's niece, and others who spoke. I laughed and cried. And I learned much more about Dr. Sidney than I knew before. A remarkable and impactful life.
On behalf of my family — Dana, Sam, and Zach — please know that all of you are on our minds and in our hearts.
God bless,
Steve Butler
Fairhope, Alabama.
~Steve Butler
~family friend, Fairhope, Alabama
---
June 23rd, 2023
My thoughts and prayers are with you today and throughout this difficult journey.
Ann
~Ann Garoon
~Friend, NORTHBROOK
---
June 23rd, 2023
Dear David,
No words of sympathy can express my sorry for your loss. So, please know that you and your family have my heartfelt condolences.
Debra
~Debra K. Smith
~EPA Colleague, Chicago, Ilinois
---
June 23rd, 2023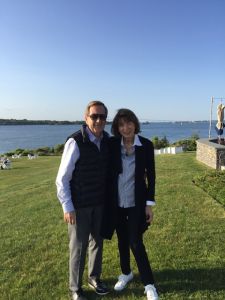 Dear Sidney,
We love and miss you very much . It has been more than 40 years since you reached out to us as neighbors in South Barrington. As strangers to the Midwest you welcomed us to your homes and your hearts. Our families gathered for holidays, weddings, bar and batmitzvah.s. When Tom needed a friend to play golf, explore Alaska , play Poker or Rosemarie needed health care or advice, you were there. We enjoyed talking politics over the kitchen table or sitting while gazing over the beautiful lake. Those memories will be cherished .
Sidney, you are a true Patriot. Defender of our wonderful country. You never, ever had a cross word about a person even if you didn't agree with their opinion. Your wonderful family will carry on a legacy of goodness, loyalty and generosity. You have established a model for all of us.
What Tom will miss the most is our conversations together. Face to face, knee to knee. The topics varied but made little difference. We were too buddies hanging out and sharing more than words. It was the deepest form of brotherly love. Rest peacefully until we meet again. Tom and Rosemarie Mitchell.
~The Mitchell Family
~Dear friend and neighbor, Chicago Illinois
---
June 22nd, 2023
June 22, 2023
Dear Inis,
Barbara and I send condolences on Sidney's death to you and your family. Sid's obituary reflects an extraordinary, magnificent and brave man. We hope that Sidney's light, love, kindnesses and dedication continues to shine on you and your family. Somehow, with family and friends, we are sustained. Please know that our thoughts, love and affections are with you and your family.
Stanford and Barbara Gass
1623 Glenview Road #219
Glenview, Illinois 60025
847-657-0317
~Stan and Barb Gass
~Friends, 1623 glenview road #219 glenview IL 60025
---
Memorial Yahrzeit Request
You will receive an annual yahrzeit reminder and the associated prayers in an email year.
"*" indicates required fields
HONORING LIFE. CHERISHING MEMORY. ®