Obituary
Sharyn Hope Fradin, 83, née Croft, devoted daughter of the late Evelyn and Samuel Croft; Sharyn was happily married for 63 years to her high school sweetheart, best friend, and love of her life, Larry Fradin. She was the proud mother of Peter (Ellen), Scott (Gail) Fradin and Ilyssa (Greg) Werstler; Grammy Sharyn cherished and kvelled over her beautiful grandchildren Jon (Alayna), Jeremy, Emily, Sam, Alec, Jilly Fradin, Hope and Ella Werstler; she was the doting sister of Alan (Ilona) Croft and the late Caron Born; much loved sister-in-law of Frank (the late Joan) Fradin and Sharon (Rick) Davis; and treasured aunt to several nieces and nephews. Sharyn kept in touch with her many cousins and created wonderful memories with lifelong friends. While raising her family, she completed her master's degree in library science, and became a respected medical reference librarian. After retiring, she found continued happiness volunteering at the Chicago Botanic Garden, attending current events classes, and reading books she borrowed from her public library. Sharyn's heart was filled by family and friends brought together over wonderful holiday gatherings and joyful meals. But most importantly, her love with Larry only grew stronger as they shared and explored many new and awesome adventures. In lieu of flowers, donations may be made to the Cancer Wellness Center, www.cancerwellness.org. Chapel service, Monday, February 27, 12:15 PM at Shalom Memorial Funeral Home, 1700 W. Rand Road, Arlington Heights. Interment following at Shalom Memorial Park. For additional information, shiva and a link to view the service online, visit Shalom Memorial Funeral Home, www.shalommemorial.org, 847-255-3520.
---
Service Information
Service : Monday, February 27th at 12:15 pm
Service Location: Shalom Chapel Service -Shalom Memorial Funeral Home
Interment:
Shalom Memorial Park
1700 W. Rand Road
Arlington Heights
Guest Book & Memories
Share your memories and photographs below.
February 27th, 2023
The heartfelt eulogies gave me a real understanding of the life and loves of Sharyn. Our sincere condolence to Larry and his family on your loss.
May Sharon's Memory be a Blessing.
Barbara & Herb Kanter
~Herb Kanter
~Friend of Larry through MEL, Highland Park,
---
February 27th, 2023
She was the best. So fun and funny, always a wonderful person. A delight to work with. I will miss her very much. My condolences and best wishes to her family and friends.
~Donna Herendeen
~co-worker at the Botanic Garden, Glencoe & Round Lake, Illinois
---
February 27th, 2023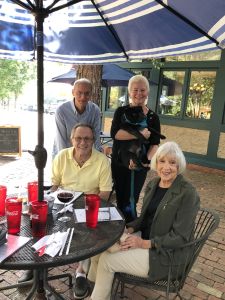 Sharyn and I ate lunch together for 27 years at work. Sharyn was the best librarian, best friend, best listener and gave the best advice on anything and everything. Sharyn could always make me laugh. I was so glad even in retirement we kept in touch. She was the sister I never had. I will miss her so much.
~Nancy Garn
~Friend, Fort Lauderdale, FL 33316
---
February 27th, 2023
Scott and Gail,
Sorry for your loss.
~David handler
~Friend, Northbrook il
---
February 27th, 2023
Sharyn and I met 71 years ago on the first day of high school and became best friends. I loved Sharyn as I would a sister. I will miss her always. Sharyn will always be in my heart and my husband Marsh and I will love her forever.
~Barbara Goldsen
~Best friend, Riverwoods, Il
---
February 25th, 2023
Sharyn was a dear friend for almost 57 years. We were blessed to have Sharyn in our lives. We will always cherish the many memories we shared. She will be missed by all who knew her.
Rest in peace our dear friend.
Howard and Gene Katz
~Howard and Gene Katz
~Friend, Deerfield, Illinois
---
February 24th, 2023
Sharyn was an amazing woman and a very dear friend for over twenty years.
I am grateful for the time we spent together and for the memories I will cherish forever.
~Nancy Carson
~Friend, Highland Park, Il
---
Memorial Yahrzeit Request
You will receive an annual yahrzeit reminder and the associated prayers in an email year.
"*" indicates required fields
HONORING LIFE. CHERISHING MEMORY. ®