Service Information
Service : Tuesday, March 14th at 12:00 pm
Service Location: Private Service-Live Stream Access – Private
Interment:
Shalom Memorial Park
1700 W. Rand Road
Arlington Heights
Shiva Information
Shiva Information
Goldberg Residence
1834 Azalea Drive
Munster, Indiana 46321
Tuesday, 5 PM – 8 PM
Contributions
Chabad of Northwest Indiana
http://www.chabadnwind.com/donate
or
Temple Beth-El of Munster
templebethel-munster.org
Obituary
Earl Goldberg, 87, beloved husband and best friend of the late Harriet Barbara Goldberg nee Chase for 63 wonderful years; loving father of Lisa (Kevin) Turner and Dr. Stephen (Rebekah) Goldberg; cherished Papa Earl of Jacob and Dylan Turner and Zayde of Aviva, Gavriel and the late Michael Goldberg; devoted son of the late Louis and Ann Goldberg; dear brother of the late Stewart and Sherman Goldberg; treasured uncle, cousin and friend of many. His success as a college baseball player led to a contract offer from the New York Giants. He also enjoyed a six-decade professional career as a civil engineer in Northwest Indiana. In lieu of flowers, memorial donations may be made to Chabad of Northwest Indiana, www.chabadnwind.com/donate or Temple Beth-El of Munster, templebethel-munster.org. Private graveside service. Please attend via livestream, Tuesday 12 PM. For a link to view the service, shiva or to leave condolences: Shalom Memorial Funeral Home, www.shalommemorial.org or (847) 255-3520.
Guest Book & Memories
Share your memories and photographs below.
March 15th, 2023
I am so sad for the loss of the man I've called "Uncle Earl" all my life. I have so many special memories and so much gratitude for Uncle Earl and Auntie Harriet. Lisa and Stephen, my heart goes out to both of you.
Love,
Janice
~Janice Block
~Friend, SANIBEL, FL
---
March 13th, 2023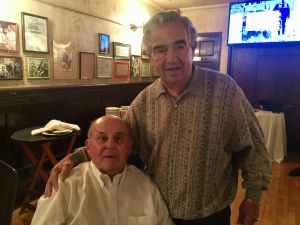 I will miss my dearest friend of over 60 years. There are such fond memories of the time s we shared together.
~Joel levy
~Dear friend, Schererville, IN
---
March 13th, 2023
So many years of good times. Earl we are heartbroken.
Lisa and Stephan, you have beautiful memories of your parents. Cherish them.
Maureen and Joe
~Maureen and Joe Solan
~Friends, St John indiana
---
Memorial Yahrzeit Request
You will receive an annual yahrzeit reminder and the associated prayers in an email year.
"*" indicates required fields
HONORING LIFE. CHERISHING MEMORY. ®