Service Information
Service : Friday, November 3rd at 1:30 pm
Service Location: Graveside Service
Shalom Memorial Park
1700 W. Rand Road
Arlington Heights, IL 60004
Interment:
Shalom Memorial Park
1700 W. Rand Road
Arlington Heights
Shiva Information
Shiva Information
Sunday from 12:00-4:00 PM
at the home of
Lorie Chaiten and Harold Hirshman
1640 N Sedgwick
Chicago, Illinois 60614
and
Tuesday, November 7th at 7pm
at the home of
Shari and Seth Shapiro
526 Winding Way
Merion Station, Pennsylvania 19066
Obituary
Union-side labor lawyer, Brandeis University professor, and NYT best-selling author Linda Redlick Hirshman died on Tuesday, October 31. Linda dedicated her career to social and economic equality. As a lawyer, she represented labor unions in three cases before the Supreme Court. Later, she used her gift for storytelling to explain social movements and the people who lead them, in books and articles including Get to Work, Victory: The Triumphant Gay Revolution, the Color of Abolition, and Sisters-in-Law, the NYT best-selling biography of Sandra Day O'Connor and Ruth Bader Ginsberg. She believed that anything could be improved through the liberal application of exercise, music, and Orwasher's jelly doughnuts. Predeceased by husband David Forkosh and sister Judy Collen, Linda is survived by her children Sarah (Hirshman) Shapiro, Margot (Forkosh) Ettlinger and Elyse (Forkosh) Cutler, their spouses, seven grandchildren, and first husband Harold Hirshman. Linda will have a graveside service in Chicago on Friday, November 3rd at 1:30 PM at Shalom Memorial Park, 1700 W. Rand Road, Arlington Heights, IL and a celebration of her life in New York City at a date to follow. In honor of her lifelong love of opera, in lieu of flowers or other remembrances, please donate to the Metropolitan Opera: https://www.metopera.org/support/make-a-gift/commemorative-gifts/#memorial-gifts or by mail c/o Kendall Hubert, The Metropolitan Opera, 30 Lincoln Center, New York, NY 10023. For additional information, shiva and a link to view the service online, visit Shalom Memorial Funeral Home, www.shalommemorial.org, 847-255-3520.
Guest Book & Memories
Share your memories and photographs below.
November 13th, 2023
I have greatly admired Linda's fierce passion and intellect in pursuit of gender justice and equality for many decades. She was bold and fearless and so energetic. Please let me know when the memorial service in NYC will take place.
~Karen Kaplowitz
~Law school classmate and friend, New Hope, PA
---
November 6th, 2023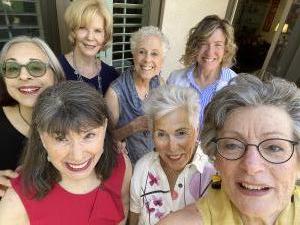 The AB's (Advisory Broads) will forever cherish you.
~Bianca L. Bernstein
~friend, Scottsdale
---
November 3rd, 2023
Eleven wonderful years o FOE .
~Grace Lichtenstein
~Friend, New York
---
Memorial Yahrzeit Request
You will receive an annual yahrzeit reminder and the associated prayers in an email year.
"*" indicates required fields
HONORING LIFE. CHERISHING MEMORY. ®