Service Information
Service : Thursday, January 19th at 2:30 pm
Service Location: Shalom Chapel Service – Shalom Memorial Funeral Home
Interment:
Shalom Memorial Park
1700 W. Rand Road
Arlington Heights
Shiva Information
Shiva Information
Home of Steven and Lena Levin
545 Leamington Avenue
Wilmette, Illinois 60091
Thursday following the service to 9 PM
Friday 3 PM to 9 PM
Contributions
Dancing While Cancering
P.O. Box 565
Glencoe, Illinois 60022
http://www.dancingwhilecancering.org
Obituary
Norman Levin, 87, beloved husband of the late Lydia nee Goldblatt; loving father of Geoff Levin and Steven (Lena) Levin; proud grandpa of Kyle, Caylen, Joshua, Jeremy and Jacob; devoted son of the late Ora and Gabriel Levin; dear brother of Lillian (the late Sonny) Kirshenbaum and the late Jeanette (the late Calvin) Bell; treasured uncle, cousin and friend of many. Norman was in the Chicago Public League Basketball Hall of Fame. He was one of the founders and president of the GVS, Great Vest Side Club, and was very proud that their club donated many ambulances to Israel. Norman's greatest joy was his family. In lieu of flowers, donations may be made to Dancing While Cancering, P.O. Box 565, Glencoe, IL 60022 and at www.dancingwhilecancering.org. Chapel service Thursday 2:30 PM at Shalom Memorial Funeral Home, 1700 W. Rand Road, Arlington Heights. Interment Shalom Memorial Park. For the link to view the service virtually, shiva information and to leave condolences, www.shalommemorial.org or (847) 255-3520.
Guest Book & Memories
Share your memories and photographs below.
January 19th, 2023
I became friendly with Norm when I was a Board member of the GVS. He was Mr. Great Vest Side and was instrumental in making it the great social and charitable organization it is today. I last saw Norm at our luncheon this past August. We had a most pleasant conversation and he was very happy to be there.
May the families fond, loving memories of Norm bring you some consolation during this difficult time and:
MAY HIS MEMORY BE A BLESSING.
Herb Kanter
~Herb Kanter
~Great Vest Side Club, President, Highland Park, IL
---
January 19th, 2023
Normie you were a legend A leader among men..Everyone loved Normie.What I always remember you saying Quote never swear when women are present.Bottem line YOU ARE A MENSCH OF THE HIGHEST LEVEL
~irwin battock
~FREIND, phx
---
January 16th, 2023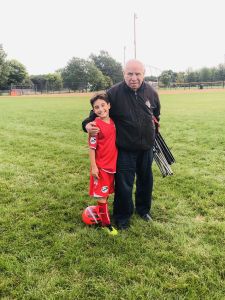 I will miss Grandpa and I truly hope you are in a better place. Rest in peace and we love you. – Jacob
~Jacob
~Grandson, Deerfield
---
January 16th, 2023
Norm…I will miss you, You will live in my heart forever! Soar with angels. Your friend, Chicago Police Officer Bill Jaconetti on the beat
we always had each others back. Your the BEST! We will meet again.
~william/Donna Jaconetti
~Longtime Friend, Chicago
---
Memorial Yahrzeit Request
You will receive an annual yahrzeit reminder and the associated prayers in an email year.
"*" indicates required fields
HONORING LIFE. CHERISHING MEMORY. ®