Service Information
Service : Monday, May 15th at 10:00 am
Service Location: Shalom Chapel Service – Shalom Memorial Funeral Home
Interment:
Shalom Memorial Park
1700 W. Rand Road
Arlington Heights
Shiva Information
Shiva Information
Everyone is invited to join the family
following the service until 4 PM at:
Max and Benny's
461 Waukegan Road
Northbrook, Illinois 60062
Calls of Condolence
Rhea Kleeblatt Residence
876 Newport Court
Buffalo Grove, Illinois 60089
After the luncheon from 6:00 PM until 9:00 PM
Contributions
National Alliance on Mental Illness
4301 Wilson Blvd. Suite 300
Arlington, Virgina 22203
http://www.nami.org
Obituary
Linda Sue Simon, 75 née Nathan, beloved wife of the late Stephen Simon, happily married for 50 years; loving mother of Geoff (Danielle) Simon and Rachel (Alex Katz) Simon and her four-legged son Bear; cherished Grandma of Cyrus; dear sister of Robert (Donna) Nathan and Marcia Nathan; treasured aunt to several nieces and nephews. In lieu of flowers, donations may be made to NAMI, National Alliance on Mental Illness, www.nami.org. Chapel service Monday, May 15, 10:00 AM at Shalom Memorial Funeral Home, 1700 W. Rand Road, Arlington Heights. Interment following at Shalom Memorial Park. For additional information, shiva and a link to view the service online, visit Shalom Memorial Funeral Home, www.shalommemorial.org 847-255-3520.
Guest Book & Memories
Share your memories and photographs below.
May 17th, 2023
I met Linda right after her mother and my father started dating. She, like her mother were immediately family. Linda and I got together often. I felt more like sisters than step sisters. My children, debi vicki James and Bill all immediately had another aunt. She and vicki both hit it off right away. Doing things together ❤️ 😌. Vicki had a special aunt. Linda will always be missed by all of us.
~Idelle lebovitz
~Step sister,, Nevada, Las Vegas
---
May 15th, 2023
Berkowitz's/Atlanta
Linda's sister, Marsha, moved to Atlanta and we became Housemates.
(Snowstorm of '75?!?)
May Linda's memory always be for a blessing.
~Marcie Gross Koffler
~Friend of Marsha Nathan, Roswell
---
May 15th, 2023
I dont remember a time when Auntie Linda wasn't my Aunt. She was always so loving and warm to me. I will always cherish the fond memories of her. When I lived in IL we would go for lunch at times and when she came to Vegas we would meet up. I will miss Auntie Linda and alway love her. My deepest condolences to Geoff, Rachel, Uncle Robert, Aunt Donna,and Aunt Marsha.
~Vicki Lebovitz
~Step Niece, Las Vegas. NV
---
May 15th, 2023
Such a terrible loss of a sweet, caring person. May her memory be a blessing.
~Mike and Bonnie Kochman
~Friends, Germantown, TN
---
May 15th, 2023
Linda, thank your for your kindness and smile at SSPR over the years. Your bright light will certain be missed. Rest in peace.
~Mallory Vasquez
---
May 15th, 2023
I knew Linda Simon for the past 15 years from the fitness center, monthly group birthday parties, theater, temple, and private get togethers. We shared many happy celebrations and we also grieved together for the loss of her precious special needs nephew and her husband, Stephen. She was always a gracious, sweet, caring person who was thoughtful of others.
During the pandemic when my special needs child was on lock down in a nursing home and I could not visit, I asked Linda to make color copies of email pictures. She didn't hesitate and in fact, delivered the photos in a frame to my home. What a sweetheart.
Her shining star that glittered and glowed for all of us has dimmed far too soon. I picture you, my friend Linda, in your pink Yoga outfit with your big smile and sparkling brown eyes. With your boundless energy, you are making new friends in Heaven.
I was blessed to know you,
Your friend, Robbie Malkowski
~robbie malkowski
~A friend, buffalo grove, il
---
May 15th, 2023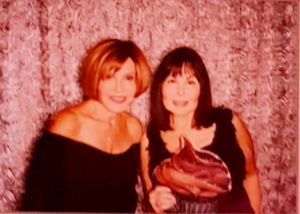 I met Linda on her first date with my brother Steve. I was her Maid of Honor at their wedding and she was mine. Linda became my sister I never had. I will miss her.
~Judi Simon Seidman
~Sister in law, New York
---
May 14th, 2023
Linda was like a sister to me and like an aunt to my daughter. She would take my daughter with her on many occasions when we lived there. We took some wonderful trips together and i loved her like my own family. We both lost our husbands around the same time and shared how difficult it was. She will live in my heart forever and ever. Life will not be the same without her.
~Marlene wasserman
~Loving friend, Agoura Hills, CA
---
May 13th, 2023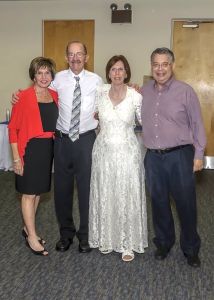 Linda was my cousin but really like a sister to me. She was a considerate and loving person. We played Mah Jong everyday together online. She loved exercising and playing pickle ball. When we were very young she came to NY for the summer. We had so much fun together at the beach and telling funny stories under the blankets. We will miss you dearly.
~Lois and Mark
~Cousins, Staten Island, NY
---
May 13th, 2023
Dear Geoff, and Family ( including Bear)
Linda was truly a lady of the finest character who always was sweet, loving, and caring. From the day I met Linda and Steve in Buffalo Grove IL through Ronni and Howie. to just a few days ago, she was a ray of sunshine who brought happiness to all. She was an all around beautiful friend, internally and externally. who I admired. From her head to her toes to her mannerism, she was well manicured. I have so many fond memories that I will always cherish and feel blessed to have had Linda as a dear friend. My sincerest condolences are expressed to you and yours. May you find comfort in knowing that your love and fond memories will always remain in your hearts and minds. Indeed they will in mine!
~Elizabeth Stucker
~Friend, Glenview, Illinois
---
Memorial Yahrzeit Request
You will receive an annual yahrzeit reminder and the associated prayers in an email year.
"*" indicates required fields
HONORING LIFE. CHERISHING MEMORY. ®