Obituary
Jane "Janie" Hoffenberg, nee Kohn, beloved wife of the late Bob for 69 years; loving mother of Steven (Joyce), Lynn (the late Joel), Scott (Wendy), and Neal (Ruth); cherished grandmother of Lindsay (Chris), Dayna (Ryan), Michael (Jojo), Drew, Allison (Jason), Lindsey (Randy), Shawn (Mercedes), Brandon (Colleen), Jaime (Shaun), Ron (Kaleena), Rob (Rachel), Adam (Jaci), Ryann (Chase), Kyle, Justin (Maggie) and Aaron; proud great-grandmother of 26; devoted sister of Jerry (the late Frima); caring sister-in-law of Seretta; dear aunt of Amy (John), Alan, Bruce (Denise), Tina (Dean), Sir Guy, Gail (Freddy), Stuart, Neil (Maggie), the late Earl (Helen), and the late Barbara and Debbie. Janie was one helluva cook and party planner. Graveside service 10 AM, Tuesday at Shalom Memorial Park, 1700 W. Rand Road, Arlington Heights. In lieu of flowers, donations may be made to The ALS Association (donate.als.org). To leave condolences and for information, including link to view service: shalommemorial.org or (847) 255-3520
---
Service Information
Service : Tuesday, January 17th at 10:00 am
Service Location: Graveside Service -Shalom Memorial Park
Interment:
Shalom Memorial Park
1700 W. Rand Road
Arlington Heights
Guest Book & Memories
Share your memories and photographs below.
January 16th, 2023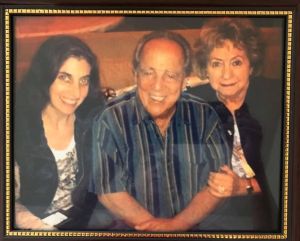 One of my favorite of many many memories is when I came out to visit when I was a teenager (my very first trip to Chicago) and auntie Janie took me to Marshall Fields where I got my very first credit card 😊 we shopped allllll day! She was so loving and kind to me . I will never forget her ❤️
And one more very special memory was when she and uncle Bobby came out to CA and called me to tell me they were here for just a short visit. We met at their Hollywood hotel for dinner- it meant so much that they called and made time to see us. That is where we took this beautiful pic that I will cherish forever. ❤️
~Tina
~Niece, Reseda, CA
---
Memorial Yahrzeit Request
You will receive an annual yahrzeit reminder and the associated prayers in an email year.
"*" indicates required fields
HONORING LIFE. CHERISHING MEMORY. ®