Obituary
Alan Ross, 84, beloved husband of Susan Ross, née Mandel, happily married for 55 years; loving father of Rustin (Nicole) Ross and Kimmi Ross; cherished Papa of Jordan and Jeremy Ross; dear brother of Lynn (Tom) Worthheimer; The family would like to extend a heartfelt thank you to Maria for her care and dedication to Alan. In lieu of flowers, donations may be made to the Lymphoma Research Foundation, www.lymphoma.org. Chapel service Monday, April 24, 10:00 AM at Beth Shearim Mausoleum, Shalom Memorial Park, 1700 W. Rand Road, Arlington Heights. For additional information, shiva and a link to view the service online, visit Shalom Memorial Funeral Home, www.shalommemorial.org, 847-255-3520.
---
Service Information
Service : Monday, April 24th at 10:00 am
Service Location: Beth Shearim Chapel Service -Beth Shearim Chapel Service
Interment:
Shalom Memorial Park
1700 W. Rand Road
Arlington Heights
Guest Book & Memories
Share your memories and photographs below.
May 26th, 2023
Dear Susan, Rusty, Kimmi, and family,
We just learned that dear Alan passed away in April. He was the sweetest guy with the kindest mannerism.
We send to you our heartfelt condolences.
Love, Barbara and Robert Paget
~Barbara Paget
~Friends since 1969, Highland Park, Illinois
---
May 2nd, 2023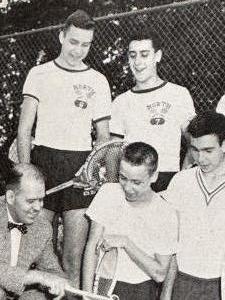 My sincere condolences to Al's family.
He was a good sport and a most valuable member of our HS tennis team. I have nothing but fond memories of his cheerful disposition and great attitude about life.
~Ed Stone
~High School friend and fellow tennis team member, Magnolia Springs, AL
---
April 26th, 2023
My sincere Condolences on behalf of Ralph/Martin/Harvey Jacobson Family. Fond memories of visiting Alan at his Northbrook based business.
~ralph jacobson
~Business Friend, Highland Park
---
April 24th, 2023
We have wonderful memories of the years we shared together, in Chicago and in Florida.
Laughs and good times we will treasure forever, and we will miss his smile and his financial advise
Eddie and Irma Schwartz
~Edward and Irma Schwartz
~Friends, Palm Beach Gardens
---
April 23rd, 2023
Words cannot express our feelings for Alan. He was a lifelong friend for 55 plus years.
We had wonderful times with Susie and Alan. He always had a playful side to him.
We loved his antics and his wonderful laugh. We will truly miss him.
~Janis and Stuart Edelman
~Lifelong Friends, Sarasota, Florida
---
April 23rd, 2023
To our dear Family whom we love , Alan was a gift of joy and love to all who knew him .
We love you all so much .
Hugs and more Hugs For Susie ,Kimmi and Rustin and Children.
Ron and Sindi
~Ron and Sindi Schwartz
~Cousins, Laguna
---
Memorial Yahrzeit Request
You will receive an annual yahrzeit reminder and the associated prayers in an email year.
"*" indicates required fields
HONORING LIFE. CHERISHING MEMORY. ®