Five Wishes - Living Will Kit
There are many things in life that are out of our hands.
The Five Wishes document gives you a way to control something very important—how you are treated if you get seriously ill.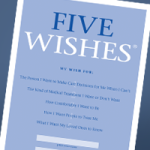 It is an easy to complete form that lets you say exactly what you want.
It was written with the help of The American Bar Association's Commission on Law and Aging and once it is filled out and properly signed it is valid under the laws of most states.
My Five Wishes Living Will Kit
WISH 1The Person I Want To Make Health Care Decisions For Me When I Can't Make Them For Myself

WISH 2My Wish For The Kind Of Medical Treatment I Want Or Don't Want

Wish 3My Wish For How Comfortable I Want To Be

Wish 4My Wish For How I Want People To Treat Me

Wish 5My Wish For What I Want My Loved Ones To Know
HONORING LIFE. CHERISHING MEMORY. ®